Philanthropist of the Year
The Philanthropist of the Year Award was established in 1998 to heighten the visibility of giving in the Yampa Valley. The award honors an individual, business, and youth who have exhibited significant charitable giving, insightful leadership and volunteerism, and who encourage others to contribute by example.
"Every great dream begins with a dreamer. Always remember, you have with you the strength, the patience, and the passion to reach for the stars to change the world."
-Harriet Tubman
2023 Philanthropist of the Year
Yampa Valley Community Foundation continues its long tradition of awarding Philanthropist of the Year honors to an individual, business and youth, and this year, a Legacy of Philanthropy Award recipient. All honorees share a common theme of taking action to improve their community.
2022 Philanthropist of the Year
2021 Philanthropist of the Year
2020 Philanthropist of the Year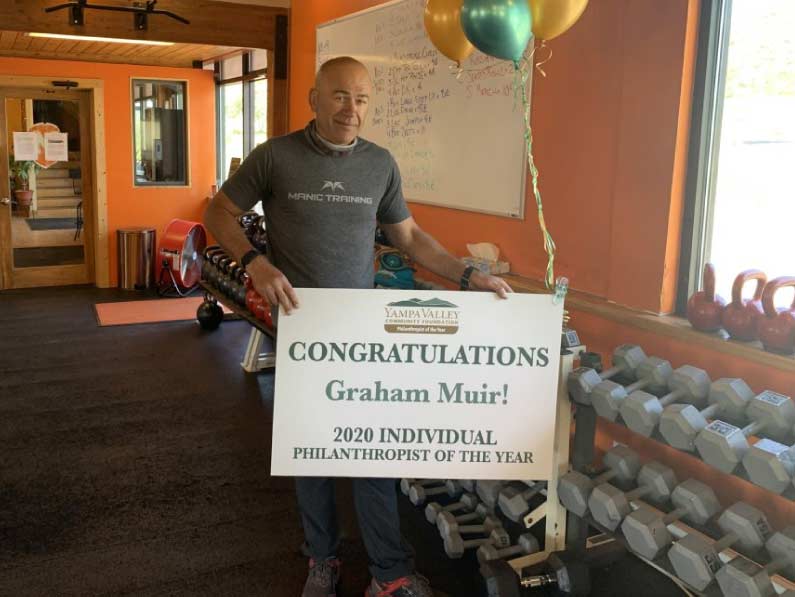 Graham Muir – Individual Philanthropist of the Year
Graham "Bush" Muir is well-known among those he coaches at his Manic Training gym as someone who will push you to your limits and beyond. He is a hard driver with a work ethic and intrinsic motivation beyond compare. But it is Graham's innate desire to help those in need and capacity to create a movement, an opportunity to do good, out of seemingly ordinary situations that truly defines who he is.
Yampa Valley Community Foundation recently surprised Graham at his training facility, presenting him with the recognition as the 2020 Individual Philanthropist of the Year.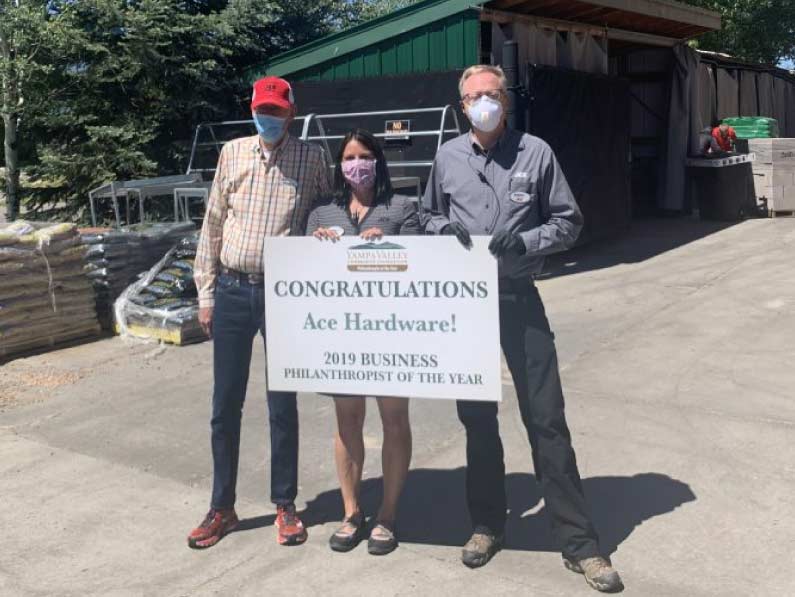 Steamboat Ace Hardware – Business Philanthropist of the Year
According to Marc Swanson, owner of Steamboat Ace Hardware, "A hardware store is rooted in its community, helping people with projects big and small. There are so many different ways that we help our community members on a daily basis through our business, charitable giving and philanthropy are just a natural extension of the business."
As the 2020 Business Philanthropist of the Year, Steamboat Ace Hardware is recognized for giving back in a multitude of ways and to the tune of over $1 Million in donations to Yampa Valley nonprofits since it opened in 1984.
Maddie Craigen – Youth Philanthropist of the Year
"With one kind gesture you can change a life. One person at a time you can change the world. One day at a time we can change everything."
This quote from Steve Maraboli is the mantra by which Madeleine (Maddie) Craigen leads her life, and these are words that guide her in accomplishing her vision of making positive changes in our world.
Maddie was recently recognized as the 2020 Yampa Valley Youth Philanthropist of the Year for her work in creating change locally and inspiring others to do the same, creating a ripple effect that has far-reaching effects beyond the borders of the Yampa Valley.
2019 Philanthropist of the Year
To see the 2019 Celebration of Philanthropy event photos taken by the talented Danielle Zimmerer, visit here.
To view the 2019 Celebration of Philanthropy event video put together by AWEN productions, visit here.
Learn More
When Russ and Carol Atha moved to the Yampa Valley in the early 1970s, they became involved with several nonprofit organizations as a way to get to know the community and meet people from different lifestyles outside their peer group. Since then, their commitment to the Yampa Valley has remained the same, and with the growth in the nonprofit sector, their generosity has grown incrementally.
Over the many years, Russ and Carol have provided support by serving on numerous nonprofit boards, rolling up their sleeves to volunteer and providing much needed financial assistance. From their early involvement with Russ around the table when the Yampa Valley Land Trust was formed and Carol working with Perry Mansfield where she got to know Charlotte Perry and Portia Mansfield, they have diligently continued giving back to the community. Their involvement has been broad and varied from the Steamboat Arts Council to the Community Agriculture Alliance to the Literary Sojourn to Integrated Community to taking photos for 4-H at the County Fair and, of course, all causes outdoors like the Yampa River Botanic Park and Yampatika.
When asked to name the organizations they have supported over the previous four and a half decades, Carol responded, "There are too many to count, we do not want to leave anyone out!" In fact, if you take a look at any published list of supporters of local organizations, you are most likely to see their names on that list.
For Russ and Carol, their philanthropy is just a fact of life. They credit their families and upbringing for instilling the values of giving back to the community. It is something you just do. They believe that being intertwined with the texture and the fabric of the community, people can have an impact and keep what is important to them. Their contributions allow them to expand their network of friends and colleagues and truly benefit from being in the Yampa Valley.
Accepting this award is a difficult and uncomfortable experience for Russ and Carol. Everyone who knows them understands that Russ and Carol go quietly about making our community better and seek no fanfare, but rather see the value of their philanthropic efforts through the positive effects seen across the Yampa Valley. As summarized in one of their many nominations, "Their humble and unassuming presence belies a commitment to a variety of organizations and to the Valley. Carol and Russ do not ask for recognition, they just want to make the Yampa Valley a great place to live and to preserve the places and institutions that make our community special and unique."
Learn More
"We feel lucky to be in Steamboat" Jon Wade shares. He has been visiting Steamboat since 1986 and he and Wendy made Steamboat their full time home in 2005 with their two children. In 2016, they started The Steamboat Group which they describe as a community-focused real estate firm. Putting clients first and a culture of giving sets the tone for how the Steamboat Group does business.
As they built their team, Jon and Wendy looked for people that are involved in the community and excited Jon and Wendy Wadeabout The Steamboat Group's charitable giving, in which every agent participates. "During the interview process, talking about giving back to the community really helps us identify team players who are always going to put our clients first."
Kara Stoller, the CEO of the Steamboat Springs Chamber shares, "When working with Jon, he always asks, what can I do to help?" Jon's hands-on approach can best be illustrated by The Steamboat Group's partnership with Lift-Up. After learning that most of the food available at the food pantry was canned or non-perishable, they stepped in to help with Paul and Bridget Ferguson who organizes monthly Fresh Produce drives. The Steamboat Group has adopted two events each year providing volunteers, publicity and personal outreach. Their enthusiasm and leadership has resulted in record-breaking donations and 3,155 pounds of fresh produce, enough to fill a couple of pickup trucks at the last drive. Each produce drive is estimated to feed 120 families. The cash donations collected at the drive and a match from the Steamboat Group raised $4,200 last time which helps to purchase more fresh produce and ensure that the shelves remained stocked with fresh items throughout the month.
Every time The Steamboat Group helps a client sell or buy a home, a donation is made to The Steamboat Group's Donor Advised Fund at the Yampa Valley Community Foundation. Each of the company's agents is then able to direct their contributions to a local charitable organization of their choice. The fund was set up to ensure that the agents felt ownership over what community causes the company was supporting, making a connection between the people they help and local non-profits that help people every day.
Since opening the fund in 2016, their 6 agents have collectively donated over $65,000 to 29 local nonprofits through their fund in addition to providing sponsorship for dozens of local organizations.
The Steamboat Group Fund focuses their giving on supporting the people that keep Steamboat special. This includes local schools, Lift-Up, Trails, STARS, CASA, programs supporting local women, and kids. They see many families that are struggling with two or three jobs to make ends meet and want to make sure those families are not left behind. "We have a responsibility to help keep Steamboat special and that is why we give back," Jon shares.
Each of their agents has their own set of community passions that they support with their time and donations, ranging from the Boys & Girls Club to the Trail Maintenance Endowment Fund to the Routt County Humane Society.
The Steamboat Group's efforts do not stop at giving. Wendy was approached by CASA to consider going on stage for Dancing With The Stars. Wendy much preferred to watch the show from the audience, but their mission helping abused and neglected kids resonated with her, so she agreed to dance on stage. Throughout the months leading up to the event, she inspired others to donate to the cause including friends and clients, raising $17,000. Wendy continues to serve on the Dancing with the Stars committee lending advice and support to increase the funds raised through the event.
"We can only do so much alone; our goal is to inspire others to join us in giving back" Wendy shares. Their leadership is already having an impact within the Steamboat Group and countless organizations in the community have benefited from their time and philanthropy.
Learn More
Both Gretchen Jacobs and Andrew Petersen have been recent standouts in our community and also as youth leaders. Most recently, their combined leadership efforts were instrumental in creating a new city ordinance to ban single-use plastic bags in the four major grocery stores. They both reflect on the Steamboat community as an inspiring motivator to get involved and to give back.
Andrew talks about how his mother has always been involved with the community. He commends her on raising his awareness of what a special community Steamboat is and how it's important to give back. Andrew has a history of youth volunteer experience to draw from. At age 11 he was active with the Rocky Mountain Youth Corps as a Service Learning Crew. He spent three consecutive summers participating in environmental conservation. He has been a supervisor with the mini-Sprouts preschool program and currently works with the Boys and Girls Club. He has volunteered for fundraisers, completed an internship with the City of Steamboat, and is a member of the Model UN club in school.
Gretchen, similar to many youths in the Yampa Valley, enjoys the opportunities this community offers to be active. However, after suffering an injury as a soccer player, she looked to other venues in order to get involved. She joined the youth tri-club and was inspired to become a coach via Joy Rasmussen. Additionally, for the past three years, she has volunteered for the Dance Show, acting as the Director. She helped plan the entire program, auditioned dancers, organized rehearsals, and managed the production crew. As a junior high school student, she was part of the Leadership Class; her efforts promoted school spirit. She was instrumental with putting on Homecoming activities, Prom and more. She was asked to return as a mentor for her senior year and currently serves as the Senior Class Officer and held a position on the Sailor Senate.
It's no surprise that both Andrew and Gretchen ended up on Teen Council, a program sponsored by the city and comprised of local youth who are interested in making a difference in our community. The council, originally created to host the Friday night club, has morphed into much more. Elevating youth's perspective in the community has become their goal. Their motto is "giving teens a voice."
When Teen Council member Quinn Keefe returned from a trip in the Bahamas and reported on the tremendous amounts of plastic seen on the beaches there, he recommended that the council make their annual project to ban plastic bags. Gretchen, Andrew and the rest of the council agreed. They became motivated to head off this problem before this issue becomes even more serious for future generations.
Although City Council has encountered other efforts to ban single-use plastic, until 2019 the proposal has not been successful. Andrew and Gretchen proceeded forward. Tackling the issues in a systematic and deliberating fashion. A major question for the City Council was, "what are the alternatives?" They provided the research behind offering paper bags and why the cost should be $.20 per bag. This delivery on details and continued deliberation clinched the deal with City Council and the ban will become effective in October 2019.
Both Gretchen and Andrew enjoy being involved with community projects such as the plastic bag ban. It gives them a feeling of accomplishment and satisfaction. Andrew mentioned that "I always get the best grades when I am doing many things." They hope that other youth will be inspired to get involved. Not only does it feel good to make a positive impact on your community, they explained, but they want youth to know that you can accomplish anything so long as you work at it.
2018 Philanthropist of the Year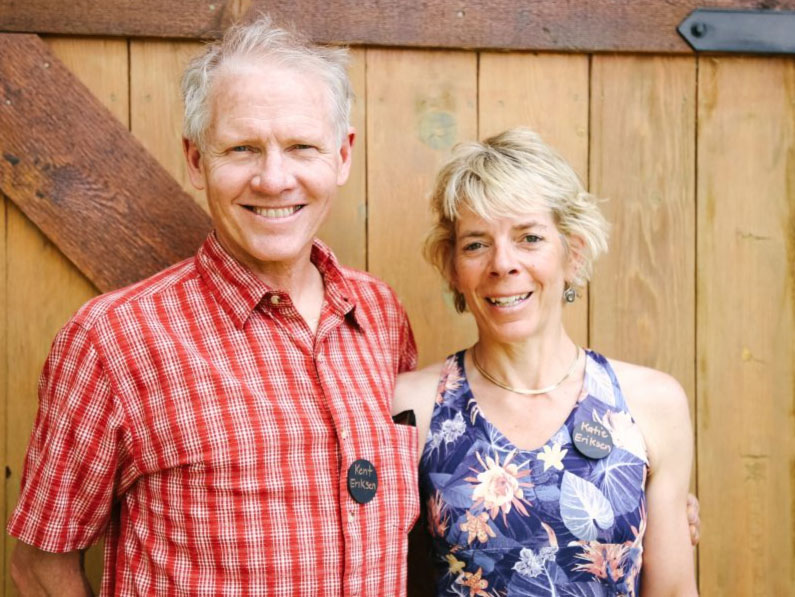 Kent and Katie Eriksen – Individual Philanthropist of the Year
Learn More
The cycling story of Steamboat Springs runs deep and Kent Eriksen is a major chapter. Kent moved to Steamboat in 1974 and started the cycling shop Sore Saddle Cyclery. Soon after the shop was opened, Kent created the Tour de Steamboat (TDS) as a way to promote local cycling.
Fast forward to 2001 when Katie Lindquist (now Eriksen) arrived full-time in Steamboat. As a competitive endurance racer with many victories under her belt, she took on another challenge – bringing back the TDS after a short hiatus. She and her business partner, Brad Cusenbary, were putting on local events, including 24 Hours of Steamboat, and added the TDS in 2004.
In 2005, Katie explained how the Tour de Steamboat changed the focus from a personal endeavor to a community fundraiser. "A customer came into the cycle shop and asked, 'Who is this race raising money for?' and I stumbled and didn't have a great answer." That moment is when the event changed.
In 2005, they initially raised money for the Livestrong Foundation to support cancer patients and their families. In 2008, the ride became a fundraiser for the Sunshine Kids Foundation. That year, they raised $20,000. When Brad was diagnosed with brain cancer, Katie's fundraising goals suddenly became very personal. The Tour eventually raised more than $200,000 for the Sunshine Kids over 5 years.
Three years ago the Tour became a 501c3, thereby ensuring its commitment to charitable fundraising in perpetuity. The Steering Committee most recently selected to support the following non-profits: Partners in Routt County, Yampa Valley Sustainability Council, Reaching Everyone Preventing Suicide and Routt County Riders. Katie and the entire Board of Directors now organize the Tour on an all-volunteer basis because, as Katie explains, "we are part of this community, we want to raise money for this community." Over the past four years, the ride has raised another $250,000 for these groups. Now in its 15th year, the event provides in excess of $80,000 per year to these local nonprofits.
How is this possible? Mindy Marriot, Executive Director of REPS tells of Katie, "Many qualities come to mind when I think about Katie as a leader. First, she's altruistic. She shows selfless concern for the welfare of our local nonprofits and ventures to alleviate our struggles without seeking anything for her own personal benefit. Secondly, she's empathetic. She feels an obligation to do what is in her power to combat struggles because she views the problems that others have around the table as her own. Finally, she's business-minded. She looks at her contributions of time and volunteering as investments in our community."
Katie spoke of how these described qualities were not something she was born with. She learned a lot of things working in the shop with Kent. "I watched Kent at the shop and he always said yes to work. Kent would reshape, rework and create until he could deliver on his Yes. I went from saying no, to saying yes." But like any great couple, both partners are continuing to learn, gain and grow from one another.
Kent has always been extremely hard working. As Kent explained his role with the TDS he simply stated, "I put up with Katie during the event." This may be true but is not the entire story. Besides personally investing his time leading up to and during TDS, Kent donates a custom-built Eriksen titanium bike (valued at $10,000) each year as yet another fundraising tool.
The Tour de Steamboat is a labor of love. The Eriksen's have a love for cycling, our community and each other. "I think it is hard to not be involved in your community," Katie explained. It is easier when you have great support at home. "Katie is my best friend," Kent said with a smile. Together, they left the office holding hands. When you have love at home, it is easy to spread that love to your community.
* The Tour de Steamboat (TDS) is a non-competitive cycling event which raises funds for non-profits operating in the Yampa Valley.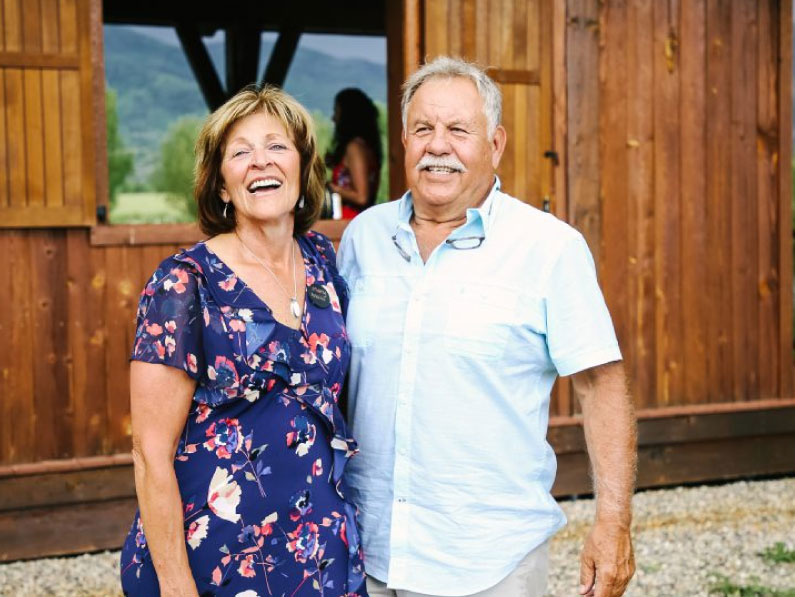 Central Park Management – Business Philanthropist of the Year
Learn More
When you call Central Park Management (CPM), you won't get an answering machine. That is because Central Park Management's fundamental focus is people. Central Park Management has been a family-owned business in the valley for over 40 years and has always made supporting the people in the local community a top priority. This is why they are receiving the Business Philanthropist of the Year Award.
One of the examples of Curt and Mary's dedication to the community began with Mary. Discovery Learning Center a child day care established by Colorado Mountain College in the 80's was going to close when Mary joined with a group of concerned families and took over the program providing administrative services to keep it alive. They provided the bookkeeping, janitorial and lawn services and hosted a multitude of fundraising events. To their delight, the program still exists today under the direction of Tami Havener whom they hired in the 80's. Creating programs that support the citizens of our community are no easy task Mary energetically stated, "We live in a great place which makes it easy to be involved and give back."
Curt appreciates Mary's "go do it" attitude, and he explained, "If you want change, you have to work for it." Curt's giving is very different from Mary's. He is a behind the scenes person. He has served as a volunteer fireman, a member of the planning commission and a Steamboat Springs Chamber Board member with his time and has financially supported countless organizations.
Central Park Management received several nominations for the Business Philanthropist of the Year Award. Ed MacArthur, one of the many people who nominated CPM, said "I have known Curt and Mary for 25 years and whenever something is needed, money or volunteer time, they and their company have been there to help."
The list of local causes supported by Central Park Management could take up multiple pages. It includes Rotary, United Way, Lift UP, Wounded Warriors, Routt County CEO, Young Life, Tread of Pioneers Museum, North Routt Charter school, Family Development Center, UCHealth – YVCF, Chief Theater, Yampa River Botanic Park, Winter Sports Club, Routt County Humane Society, Partners in Routt County, St Paul's Episcopal Church, Steamboat Tennis Association, Christian Heritage School, Steamboat Springs High School Booster Club, Stars, Steamboat Springs Youth Hockey Association and Northwest Colorado Health – to name a few.
Because CPM is a family business, their giving is extended beyond the office walls and carried home with staff and family. "We don't give back because it is our business, we do it because it is our community," Mary explained. Central Park Management encourages staff to determine how they would like to get involved in the community and works with them to make donations of money and time to the causes they care about.
Central Park Management's philanthropic approach to the community is impossible to measure. Mary explained, "It is how you treat people. The company calls on family, employees and our community to be good human beings. Cut someone's yard, give to one project, stand up and help someone and remember the smallest things may be the biggest thing in someone else's life."
Curt and Mary argue over who deserves the praise for the Philanthropist of the Year award. "Mary is the real giver, she deserves all the praise," Curt said with pride. Mary fired back, "Curt cares so deeply about this community. Curt is a great example because he doesn't talk about how much he gives back." Luckily, the award is for their business and they both receive praise, as they both deserve it.
For more information call 879-8632 or email helen@yvcf.org.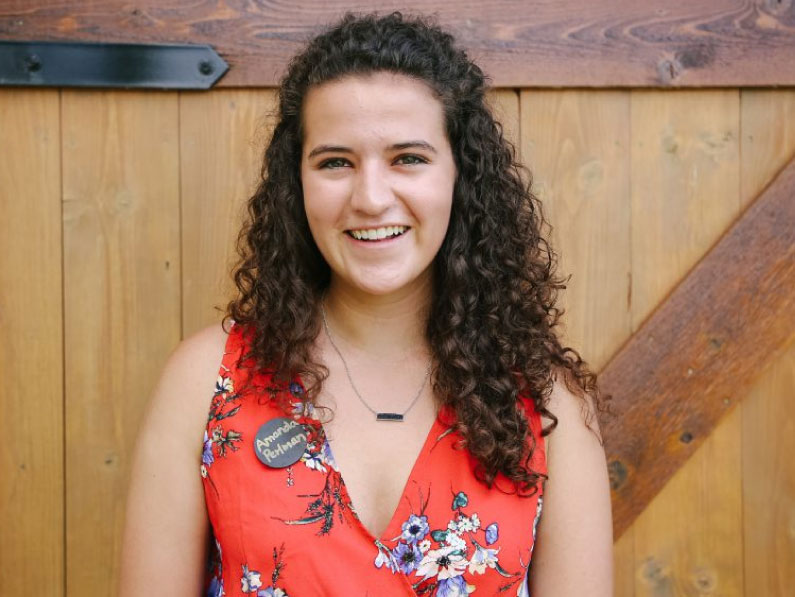 Amanda Perlman – Youth Philanthropist of the Year
Learn More
"It's not often you see a youth so rounded and so willing to give time to those less fortunate or to give back to the community she lives in." – Tara Weaver
To have the level of passion, dedication, and integrity to give back to her community and world, Amanda Perlman had to start young and she did. Philanthropy began by selling baked goods to raise money for her figure skating team. This quickly followed with weekly family trips to Lift-UP and the Routt County Humane Society to sort bags and walk dogs.
Philanthropy and caring are pillars of the Perlman household. "My mom instilled with me the value of volunteering and my father provided me with a passion for the community. My parents raised me to volunteer and give back; it is just part of what I do," Amanda explained.
Amanda was nominated for the Youth Philanthropist of the Year by several people whose recommendations had one thing in common: Amanda is so involved with the community because she truly cares, not because she is trying to build her resume.
However, Amanda's resume is impressive. She served as President of Rotary Interact Club and has made several service trips to Agua Pieta, Mexico, has volunteered at homeless shelters in Denver and has volunteered at many Rotary events, including Crutches4Africa, Barn Dance, Holiday Tubing Party and the Red Ball Express. She is a member of the National Honor Society and served as the Vice President. She has volunteered with Lift-UP since 2010 (3rd grade) and is a board member of Colorado Student Leadership Institute. In addition to these volunteer activities, she is captain of the high school golf team, second place winner at state on the speech and debate team, Co-President of the General Assembly for the Model United Nations and is the Vice President of the Spanish Club.
What is so powerful about Amanda is not just how she gives of her time, but the application of the knowledge she gains from her experiences. For example, during her visit to a homeless shelter in Denver, Amanda said, "This trip was eye-opening as there is a misconception as to why people are homeless. I learned it could be the cost of living. It could be a number of things." Amanda takes these lessons one step further as she heads to the University of Arizona this fall to study Political Science in the honors program. "The reason I am going into political science is that through advocacy I can defend those who may not be able to defend themselves," Amanda explained. She plans to obtain her law degree later.
A decision to focus on advocacy began unintentionally as Amanda went out to the golf team to be the first girl on the boys' team. She didn't know it was a big deal, but it turned out to be significant. She is proud there is now a girls' golf team at the Steamboat Springs High School.
She recently took her role in advocacy to the next level by co-organizing the Steamboat Springs "March For Our Lives." This was a student-led walk-out for gun control. Amanda said, "It was inspiring to see that a group I worked with was able to unite our students towards a common cause."
At the recent Steamboat Springs High School graduation, Amanda spoke to the class of 2018 and encouraged her fellow students to get involved, care about their community and vote.
2017 Philanthropist of the Year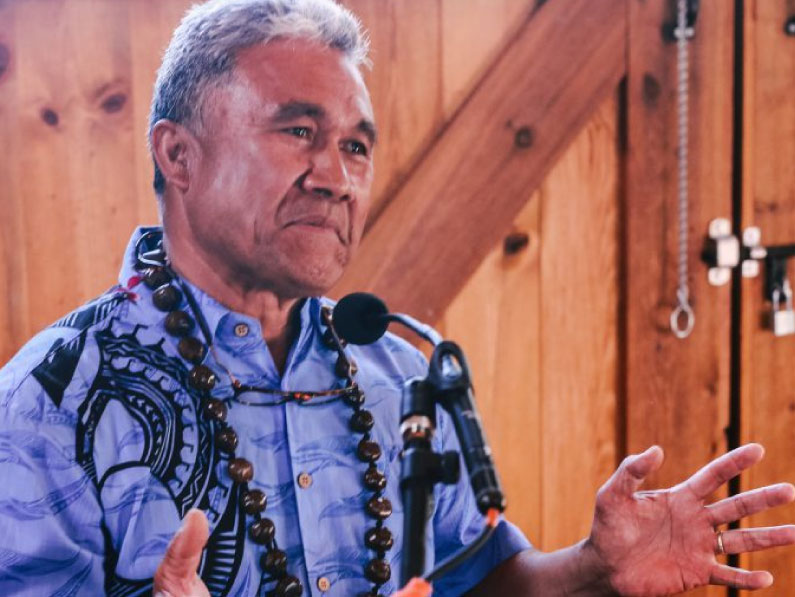 Pio Utu – Individual Philanthropist of the Year
Learn More
"Giving is not a lifestyle, it is a way of life," Pio Utu, Individual Philanthropist of the Year, tells the Yampa Valley Community Foundation with a warm smile. Most individuals' first thought of the day is coffee or breakfast. Pio's first thought is "How am I going to make a difference in someone's life today". If you are interested in seeing this difference firsthand, join Pio and a group of 40-50 local students all summer on Tuesdays and Thursdays at 6:30 am at Howelsen Park. There, you can enjoy one of Pio's famous strength and balance workouts. Pio isn't paid for his time, but he states he is paid when "the kids who I have worked with become productive citizens who excel to the best they can be." Pio believes investing in our youth is the most important thing we can do as a community. He has worked with hundreds of local students and has never discriminated against kids based on ability or talent. Pio states he is particularly proud that several of the youth he has worked with have received the Youth Philanthropist of the Year award, including this year's recipient, Charlie Harrington. As Pio might be the face of philanthropy in his family, he is very clear that none of the efforts would be possible without his wife, Rebecca. "Rebecca is as much a part of local kid's lives as I," states Pio. Both Pio and Rebecca come from families with a strong tradition of philanthropy and community values. Pio was born the son of a high chief in Somoa and Rebecca is the daughter of missionaries. Together, they have passed this passion to their two children and to the hundreds of local youth they have inspired to be the greatest they can be. They live by a motto that gifts are meant to be shared to help people. Two of the gifts Pio shares are endless energy and compassion. He, in collaboration with the booster club, hosts an annual luau fundraiser that raises over $15,000 to support local scholarships. Very humbled, Pio explains that, "even a person who gives always needs encouragement to give more." We can look to Pio as an example of how one person can better hundreds of lives. He has called Steamboat home for 36 years and states that age will not stop him from working with youth. Pio is a unique asset to our community and someone who truly embodies the spirit of philanthropy by quietly and consistently giving so much of his time and talents.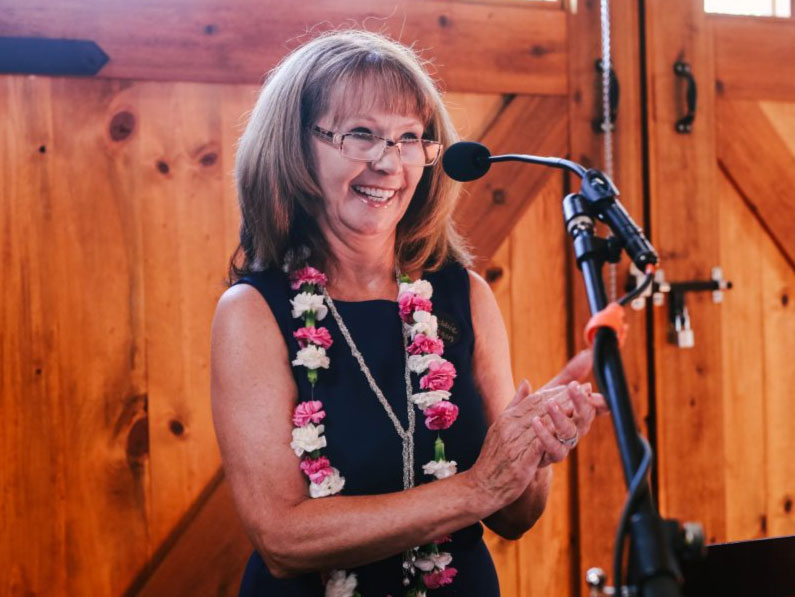 Debbie Aragon - State Farm – Business Philanthropist of the Year
Learn More
When Debbie was first notified that Debbie Aragon – State Farm had received the honor as "Business Philanthropist of the Year," her first response was, "We are not deserving; there are so many more deserving businesses." After visiting with Debbie, we could not think of a more fitting business to receive this award in 2017. With three sons, three grandsons, a husband, and eight team members, this would be enough to keep most people occupied. However, Debbie has endless energy and a "can-do" attitude that has resulted in creating a culture of giving within her small business. Her passion for community involvement is contagious to anyone who spends time with her. Since moving to Steamboat in 1997, Debbie has shared her commitment to philanthropy with the Yampa Valley in countless ways. Debbie believes that, "giving time is more valuable than giving money." Her biggest success within her business does not come from the bottom line, but from getting her team involved to improve the local community through volunteerism. She encourages her eight team members to volunteer at least three hours per week. These volunteer hours are on her clock. Add up all these volunteer hours and chances are that if Debbie has not worked directly with an organization, then someone from her team has. Her team currently volunteers with Partners, Junior Achievement, Rotary of Steamboat Springs, Optimist Club of Steamboat Springs, and local schools. On a personal level, Debbie has been involved with Strings Music Festival, the Rotary Club of Steamboat Springs, Old Town Hot Springs, Routt County United Way, Horizons Specialized Services, the High School Booster Club, After Prom, and many, many more agencies. You may have seen the Debbie Aragon – State Farm team at local fundraising events. Debbie is constantly seeking events that foster team volunteerism, as she strives to not only build her business but cultivate a caring, strong, passionate team who are community focused. This year, the team will participate in Day of Caring, Tour De Steamboat. Adopt a Highway, and the STARS ride, to name a few. When asked why Debbie works so hard to give back, her response is "I have a need to give back as I have been so blessed in life." What makes Debbie exceptional as a philanthropist is not that she gives, but she inspires others to give. John Quincy Adams quotes, "If your actions inspire others to dream more, learn more, do more and become more, you are a leader." Debbie Aragon – State Farm is the definition of a leading business in philanthropy in the Yampa Valley.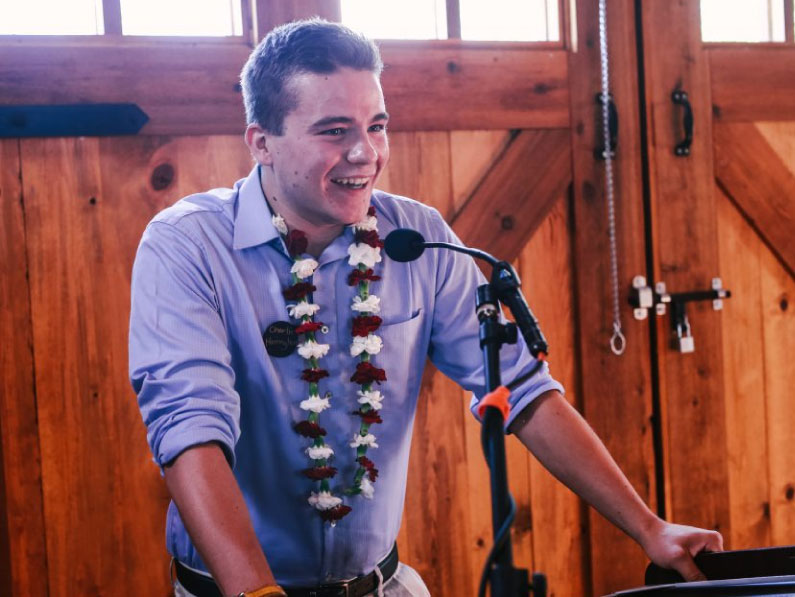 Charlie Harrington – Youth Philanthropist of the Year
Learn More
Long before he was accepted into the U.S. Military Academy at West Point, Charlie Harrington has been giving back to the Steamboat community. He shares that, "growing up with two parents who served in the military, my motto has always been service above self." Growing up with a close family friend with a disability prompted Charlie to start volunteering his time with Steamboat Adaptive Recreational Sports (STARS) while in middle school. While assisting youth with the water ski camp, Charlie recalls, "You've never seen so many smiles in one place," and reminisces about the friendships that were made socially and emotionally through his four summers working at the camp. One friend, in particular, sticks out in his memory. This friend was too timid to go near the water but over the course of the week-long camp, with Charlie's mentorship, he was solo water skiing. Julie Taulman, the Executive Director of STARS reflects, "Charlie is an exceptional mentor and counselor for our clients. He is caring to everyone and there were no challenges that he would not take on," including mentoring a nonverbal client with whom he built a special bond. Steamboat Springs High School Principal Kevin Taulman notes, "The positive relationships Charlie has built with the young people he works with carries over to the halls of the high school and into the entire community." Charlie is also active with the St. Paul's Episcopal Church and volunteers with the Boys and Girls Club as well as numerous other volunteer efforts. He follows in his father's footsteps as a leader with the Rotary Club, recently being nominated as the Vice President of RotarACTION, leading the creation of an app to help young Rotarians connect to service projects in their community and recruiting the next generation of Rotarians to give back. Charlie shares, "Community is a group of people who support one another and are committed to helping each other succeed and thrive." As Charlie heads off to West Point, he will continue to serve our country and make Steamboat proud.
2016 Philanthropist of the Year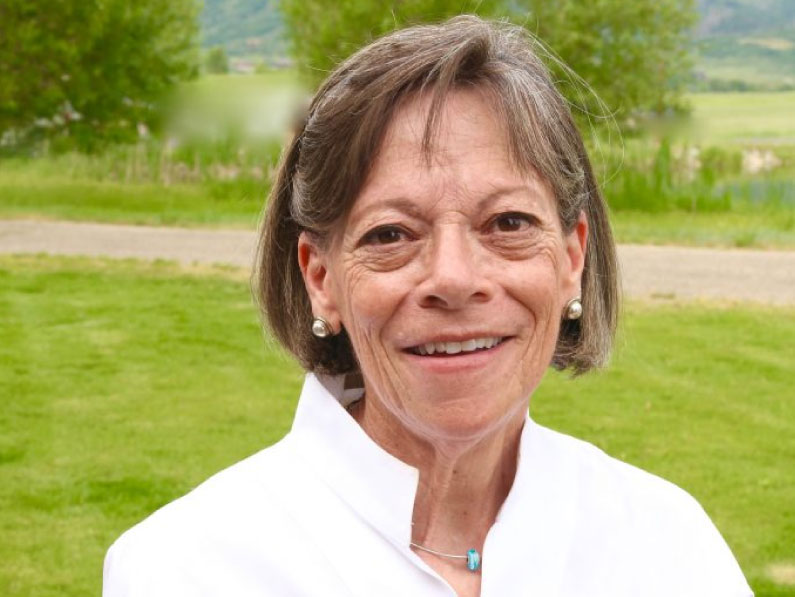 Paula Cooper Black and Jack Black (posthumous) – Individual Philanthropist of the Year
Learn More
"I WANT TO SEE MY COMMUNITY GROW AND BE VIBRANT AND YOU CAN'T DO THAT WITHOUT CHANGE"
When asked why she loves the Yampa Valley, Paula Cooper Black is quick to answer. "It is the sense of community." One can feel the passion in her voice as Paula tells stories of generosity and community support the Yampa Valley has provided her and her family. Jack Black and Paula Cooper Black moved to this community in the early 70's. Their past, current, and future acts of philanthropy fuel the spirit of giving and encourage activism. Jack Black, a founding member of the Steamboat Springs Rotary Club, was very generous, both with his time and money. He deeply believed that we are enriched by sharing with others. The family joke was that Paula at one time thought Jack had another life, as she often balanced his checkbook and wondered about the checks written to people she didn't know! As both Jack and Paula are deeply connected to the community, they serve this valley in their own distinctive ways. Paula has volunteered with the Winter Carnival, Steamboat 200, served on the Steamboat Springs Chamber Resort Association Board, Mental Health Advisory Board, Healthcare Foundation for the Yampa Valley Board, and currently serves on the Rotary and Yampa Valley Community Foundation Boards – to name a few. She also served on Steamboat Springs City Council from 1988-2000. "I sought the limelight not for ego, but for community", states Paula. John Kerst recalled the story of when Paula was on City Council and she badgered him to donate the 18 acres of land that currently is Rotary Park. Paula then went out and helped to raise the money to plant trees, buy picnic tables, and install a watering system to keep the park green. Paula is a self-described outside agitator. The community would describe her as one of those unique people who gets things done. Paula isn't afraid to look towards the future. "I want to see my community grow and be vibrant and you can't do that without change. Young people are the instrument of change." Paula can be found presenting to the Leadership Steamboat class on an annual basis – continuing to spark energy and empower the next generation in the Yampa Valley.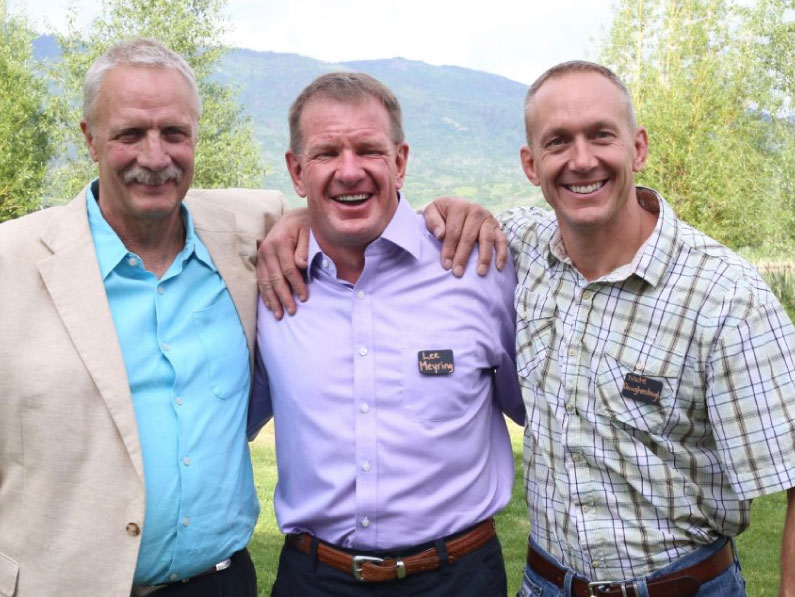 Steamboat Veterinary Hospital – Business Philanthropist of the Year
Learn More
"IT IS ALL ABOUT THE ANIMALS, NOT THE BUSINESS"
Unintentionally this past January, Rory Clow stumbled across a baby goat on a local ranch that was born with white muscle disease, resulting in paralysis of its back legs. The kid goat was unable to tuck his legs under his body for warmth, and sustained 4th degree frostbite on both back legs. The owner of the goat intended to put him down, but Rory was able to arrange for his adoption. Dr. Lee Meyring graciously acted as an advisor on whether to keep the kid goat alive, and then, knowing the adoption was an unplanned addition to Rory's life, he donated his personal time. Thanks to Dr. Lee and all the staff at Steamboat Veterinary Hospital, the kid goat is alive and walking today. This is just one story detailing the compassion, philanthropy, and service the Steamboat Veterinary Hospital has provided to the Yampa Valley since they opened their doors in 1952. This standard of philanthropy began with Doc Utterback and continues with the four current veterinarians, Dr. Natalia Stiff, Dr. Mike Gotchey, Dr. Lee Meyring and Dr. Nate Daughenbaugh, all who never stop giving of themselves and their services. Not only does the clinic donate thousands of dollars annually in sponsorships into our community, they provide countless hours of services. The clinic donates veterinary inspections for the annual Northwest Colorado Bull Sale and the annual Routt County Fair. They provide veterinary services to the Steamboat Springs Pro Rodeo Series, the 4th of July Ranch Rodeo, Born Free Wildlife Rehabilitation, and to the Steamboat Ski & Resort Corporation. Steamboat Vet has established a fund to help with special need situations and provide kids a break with the cost of animal care. This is only a glimpse at their sense of community and ongoing philanthropy. Steamboat Vet states, "It is all about the animals, not the business". Anyone who has entered through the hospital's doors knows this statement to be true. Mindy Falzarano, of Steamboat Ski & Resort Corporation, states, "I don't think people realize how much they all do to help the animals in our community. We are incredibly fortunate to have such an amazing veterinary hospital in Steamboat that is staffed with a wonderful team of people."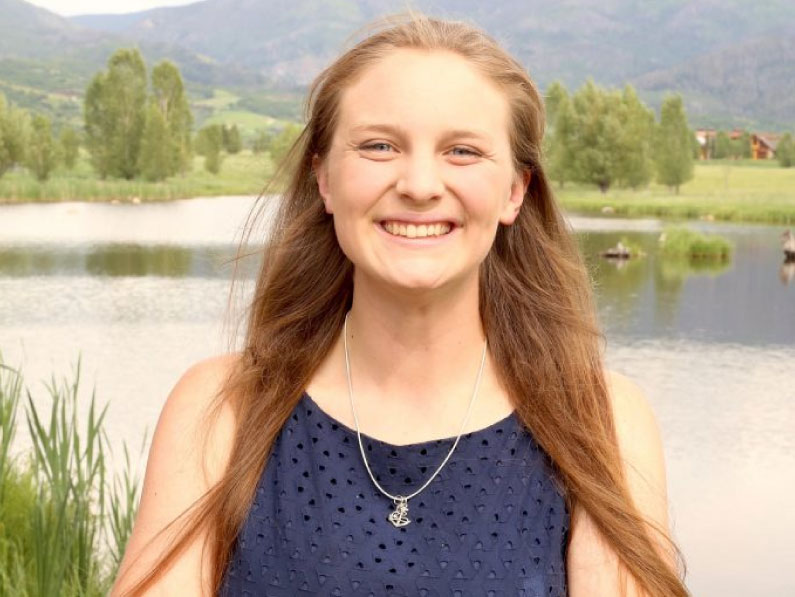 Annie Osbourn – Youth Philanthropist of the Year
Learn More
"AS I TEENAGER YOU GET SO WRAPPED UP IN THE DAY TO DAY, I WANTED TO FOCUS ON WHAT I WILL BE REMEMBERED BY"
Annie Osbourn has always identified herself as an athlete. Playing for Steamboat Springs High School – Osbourn was named all–league honorable mention in volleyball and earned a first-team Western Slope honor in basketball. However, Osbourn suddenly had to learn what defines you can change overnight when she suffered her first torn ACL injury. She wasn't able to do the things she loved to do. Instead of sitting back, Osbourn took this as an opportunity to change what defined her. "As I teenager you get so wrapped up in the day to day, I wanted to focus on what I will be remembered by", states Osbourn. While in high school she was a member of Link Crew, Student Council, National Honor Society, and captain of the varsity volleyball and basketball teams. She has contributed her time to the Boys and Girls Club, Steamboat Adaptive Recreational Sports (STARS), and as a youth basketball coach. Even with this impressive resume, it was through Osbourn's work with STARS that provided her with the opportunity to redefine herself. "I could now identify as someone who is nice, helpful, and cares about things outside of myself. It put thing in perspective and was life changing." Working with STARS, Osbourn truly found joy. Her commitment to others shines as Kelly Erickson, Osbourn's social studies teachers explains, "She is hard-working and devoted to exceeding any expectations placed upon her. She is never pretentious, despite her impressive athleticism and exceptional school record. Annie is gracious, accepting and genuine and I look forward to hearing about the ways she continues to positively impact her community with these impressive skills in the future." Osbourn will begin the next chapter of her life this fall at Colorado Mesa University to study Exercise Science.
2015 Philanthropist of the Year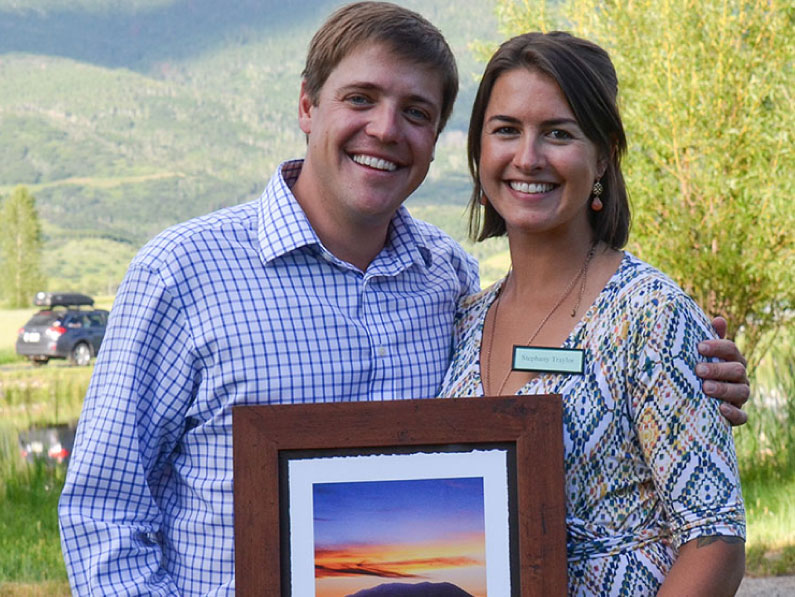 Glen & Stephany Traylor– Individual Philanthropist of the Year
Learn More
"WE GIVE BECAUSE WE WANT TO BE A PART OF THE SOLUTION. GIVING BACK IS THE MOST EFFICIENT AND EFFECTIVE WAY TO LEARN ABOUT THE STRENGTHS AND CHALLENGES OF YOUR COMMUNITY, WHICH ALLOW YOU TO BE A PART OF BUILDING ITS FUTURE."
When Glen and Stephany Traylor moved to Steamboat Springs, they wanted to make philanthropy part of their business and develop community trust through charitable giving. "What a great way to get to know where you live by getting involved and giving back", remarks Stephany. Since their arrival, both Glen and Stephany have become actively involved in the local community. Both have participated in Leadership Steamboat, served as the Chair of the Young Professionals Network (YPN) and been involved with many local nonprofit organizations including Rotary, the Yampa Valley Medical Center, Routt County United Way and others. Through their involvement with YPN, they have planned and participated in many community service and fundraising events for organizations like Partners in Routt County, Lift-Up, Routt County Riders, Free Concert Series and STARS. Through their business, Ski Butlers, they have sponsored many of these events. In addition, to inspire others to give, they have implemented a program that encourages their employees to give back by providing them with two hours of paid time each month to participate in community service endeavors of their choice. However, most impressive is Glen's leadership in the creation of Yampa Valley Gives through his Leadership Steamboat class. This successful project, which coordinates with Colorado Gives Day, raised $400,000 for Routt and Moffat County organization in a single day. Glen continues to Chair this event as a volunteer. Both Glen and Stephany credit their success to being surrounded by good people. "Within two weeks of moving to town, we felt at home because of our connection to the local people," comments Glen. "We are fortunate to be part of a network of people who give. They allow us to do more."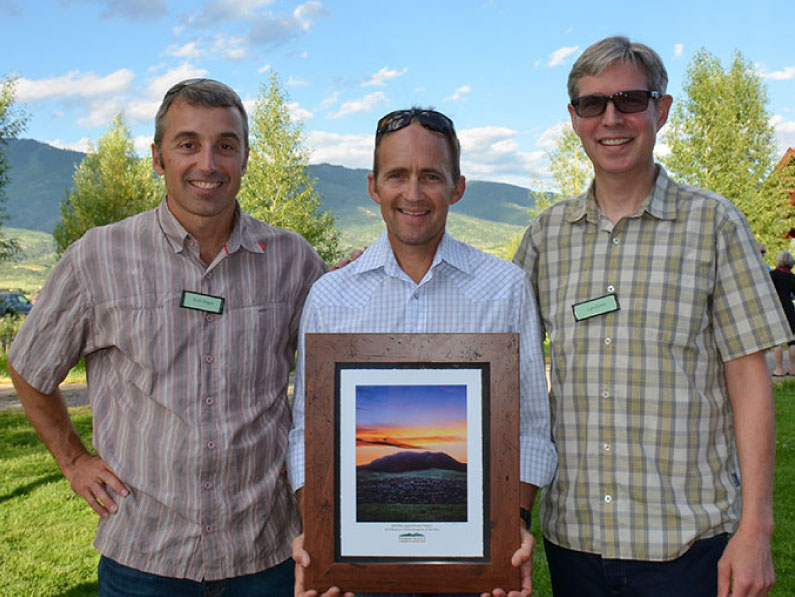 Bap/Big Agnes/Honey Stinger – Business Philanthropist of the Year
Learn More
"WE ARE VERY PROUD TO BE LOCATED IN STEAMBOAT SPRINGS AND WANT TO SUPPORT THE COMMUNITY THAT SUPPORTS US".
When Bill Gamber learned that his companies were selected as Philanthropist of the Year, his response was, "We're not worthy!" The businesses typically tries to fly under the radar with their charitable giving, however, that can be difficult when every silent auction in town has a number of their donated products. Even though they support many organization with their in-kind donations, Gamber believes their business can have a greater impact through focused efforts. Employees are encouraged to support the United Way campaign through workplace giving and the company will match their donations. In addition, employees are given three days to volunteer in the community with charities of their choice, including company-wide efforts like Adopt-A-Highway clean-up days. The business has developed a partnership with Partners in Routt County where they not only support their programs financially, but also actively assist in the recruitment of mentors in the community. Also, they have created a relationship with the Steamboat Soccer Club that supports their efforts including helping families that cannot afford the costs of their jerseys. Their biggest effort is the creation of the Steamboat Stinger, a very popular mountain bike and trail running race, which raises over $5,000 for Routt County Riders. They are proud to be a home-grown business and appreciate the support and recognition they received from the local community. "As we grow, we have become more organized and deliberate about our charitable giving," states Gamber. "We are very proud to be located in Steamboat Springs and want to support the community that supports us".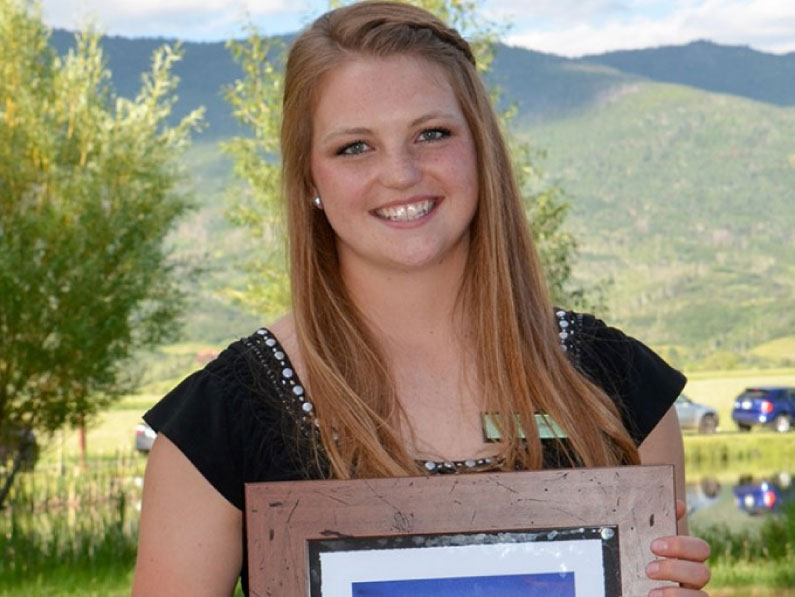 Jessica Rossi – Youth Philanthropist of the Year
Learn More
"I GIVE BECAUSE IT'S A SIMPLE WAY TO MAKE A DIFFERENCE"
For Jessica Rossi, her family has been a major influence in developing a sense of pride in helping others. Her Papa, Grammie, and Nonie, Jessica's Grandparents, passed on their passion to the community to her parents, Jessica and her three sisters. Giving back is what the Rossi family naturally does. And that truly shows through Jessica, who recently graduated from Soroco High School. In the last four years, she has given over 495 hours of community service and throughout her lifetime she has given over 700 hours. Jessica is a member of National Honor Society, Student Council, FBLA, FFA, multiple sports and 4-H. She has contributed her time to the Yampa Valley Science School, sport camps, St. Martins Catholic Church, highway clean-ups, Literary Carnivals and the Routt County Cattle Women. On one particular day, Jessica just stopped by the rodeo grounds to see what was happening and ended up spending the entire afternoon helping the local Rotary Club with their flower barrels. Typically her community service happens in large groups, but she prefers working with individuals where she can pass on her knowledge to younger people. As stated by Dean Massey, her science instructor, "Jessica's commitment to public service is well known. If there is a chance to help the less fortunate or the community, Jessica will not only be the first in line to volunteer, but she will also find a creative way to attack the problem and convince others to join the challenge. She is the kind of leader who leads by example, and inspires others by the sheer intensity of her drive and enthusiasm."
2014 Philanthropist of the Year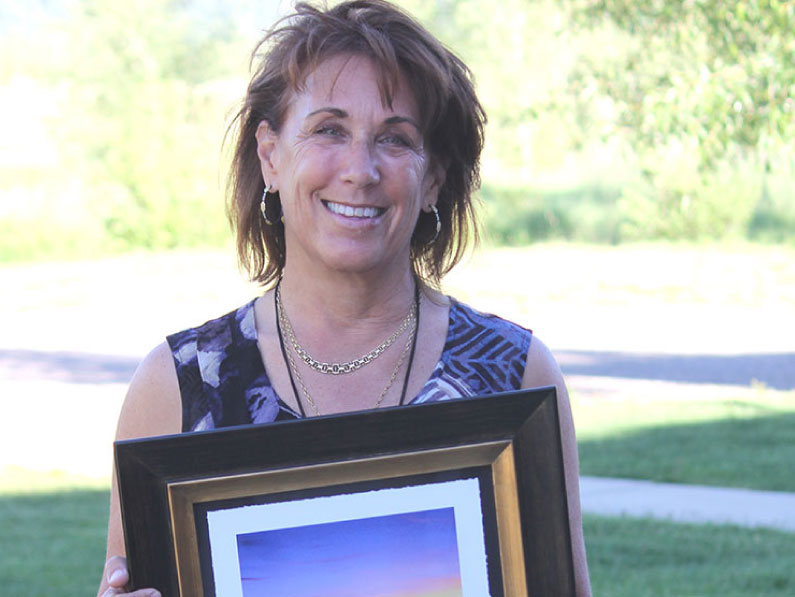 Boyd Bass & Barbara Winternitz– Individual Philanthropist of the Year
Learn More
"OUR GIVING HELPS OUR COMMUNITY! BOYD- WE GIVE SO OUR COMMUNITY WILL BE A BETTER PLACE."
Boyd Bass and Barbara Winternitz are a couple with a long history of giving in the Yampa Valley. Boyd and Barbara have supported STARS (Steamboat Adaptive Recreational Sports) for many years by underwriting the costs of STARS camps which bring youth, adults and veterans from around the country, as well as locals, to participate in sometimes life changing recreational activities for people with disabilities. They also support STARS by providing accommodations for the camp attendees. "Boyd is just the kind of person that if you need something and he has it available he's going to help you out." says Craig Kennedy, Program Director of STARS. In addition, they provide housing several times a year for the Steamboat Symphony Orchestra Conductor. Barbara says "Boyd is a bit of a softie, he donates to so many things in town and he will help just about anyone who asks in whatever way he can."
Barbara is heavily involved in Northwest Rocky Mountain CASA and is Co-Chair of Dancing With The Stars, the organization's primary fundraiser. Valerie McCarthy, Executive Director of CASA states: "Barbara goes above and beyond and puts her heart and soul into that event; she is a true asset I would never want to lose her. Fundraising, sponsorships, everything; she is incredibly generous in time and financial resources and has an outlook on wanting this community to be healthy and thriving." Barbara is also a member of the Steamboat Springs Education Fund Grant Commission.
Together they have supported the Community Foundation for many years as sponsors and participants of the IMPACT 100 giving circle program as well as serving on the Community Grants Committee. They are also members of the Foundation's Passport Club where membership supports the Foundation's operating budget as well as the annual Community Grants.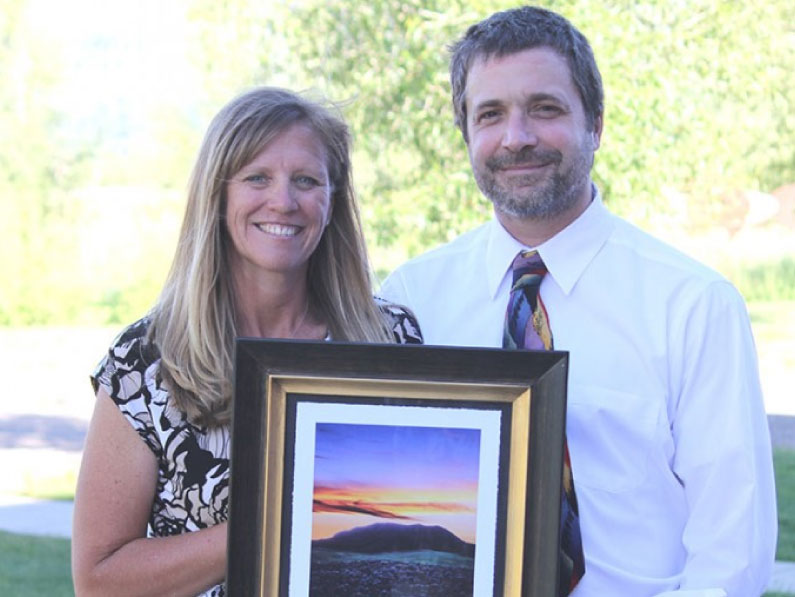 Creekside Café – Business Philanthropist of the Year
Learn More
"WE GIVE BECAUSE WE BELIEVE IN THE COMMUNITY OF STEAMBOAT SPRINGS AND WANT TO ADD TO ITS SUCCESS."
Kelly and Jason Landers moved to Steamboat 22 years ago with the intent to stay here for the rest of their lives. They enjoy giving back as a part of their every day philosophy about supporting the community you live in and love, to help it thrive and keep it as wonderful as the time they moved here. Kelly says "We have the ability to give back and we both really want to, and we try to instill that in our kids. My little son once bought a moose for $190 at a silent auction because I let him get away from me for just a minute, and he didn't know how it worked exactly, so the moose still sits in his room." They support the Challenge Fund for local education initiatives by donating business revenue on a particular day each year. They also have the "Week of Beef" where 100% of sales of beef dishes go to Community Agriculture Alliance. Creekside sponsors Rotary, Rocky Mountain Elk Foundation and also Cabaret where they take their entire staff each year. Youth soccer and biking, Yampa Valley Sustainability Council events and Tour de Steamboat aid stations are also beneficiaries of their time and donations. Creekside hosts First Friday Artwalk with a different artist every month on display in the restaurant. They have also sponsored the Day of Prayer and they encourage staff to be philanthropic by allowing them to give a Gift Certificate to any organization at any time. Kelly has served on the Mainstreet Steamboat Board as well as Promotions Committee. "We are always open to supporting a variety of events and causes in the community, and we try to bring it forward to them rather than them feeling uncomfortable having to ask. There's so many amazing people doing amazing things in this valley to support each other, and if we can help them achieve their goals, we feel really good about it." says Kelly. "We also really love our staff and we try to encourage and support them and provide them with not just a job, but a secure year round place of employment. It's important to Jason and I that they can count on us."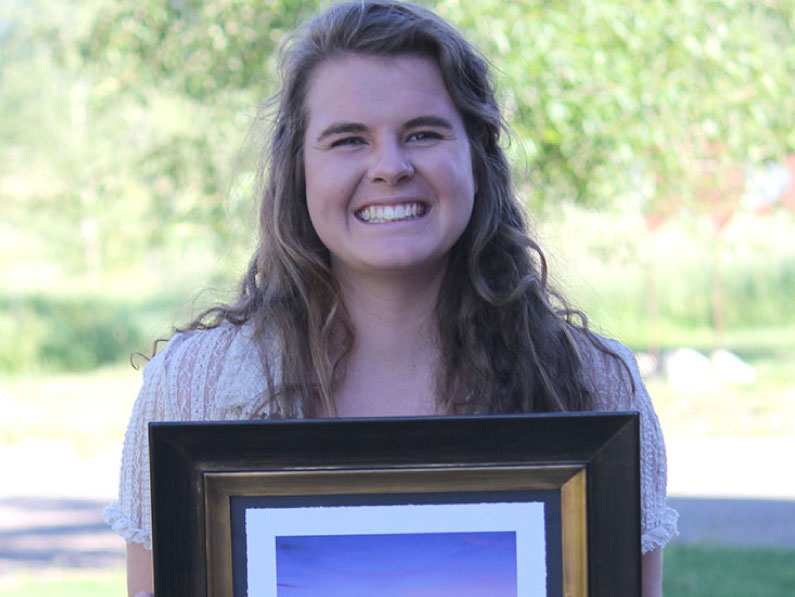 Meg O'Connell – Youth Philanthropist of the Year
Learn More
"I GIVE BECAUSE I WAS GIVEN. I GIVE BECAUSE I LOVE SMILES"
Meg O'Connell is a senior at Steamboat Springs High School. For the past five years, Meg has baked and decorated birthday cakes for clients at Horizon's Specialized Services, taking particular care to follow theme and flavor requests. "I'm not exactly a Cake Boss, but I get it as close as possible." She is the High School Representative on the Board of Directors of Advocates Building Peaceful Communities, where she helps with fundraising and educating youth on dating and sexual violence and harassment prevention. Meg is also a member of Interact Club (a program of Rotary) and has volunteered on a service trip to Aqua Prieta, Mexico for the past four years – where volunteers deliver necessities and presents to orphanages. In the past three years, Meg has also assisted in organizing the trip, raising funds, and securing the items needed for the orphanages. Meg was a Conferee at the 2012 Rotary Youth Leadership Awards, designated for her skills in leadership. On top of these service activities, Meg is a member of the National Honor Society and the Eco Club at Steamboat Springs High School. Meg is captain of the Nordic Skiing and Cross-County Track teams at her school, works at the Dreamboat Café at the Old Town Hot Springs and holds an internship at Klauzer and Tremaine Law Firm. Meg's peers describe her as dedicated, reliable, and pretty much a "genius". They recognize that she is hardworking and always ready to challenge herself to be the best she can be. Meg was a winner of the Steamboat Springs Teen Council Teen of the Month initiative. "I feel so honored and humbled to be acknowledged with a group of people who are so giving and philanthropic. I am so excited to go on to college and continue to serve in the community and use the skills I have already learned in my future philanthropic endeavors."
2013 Philanthropist of the Year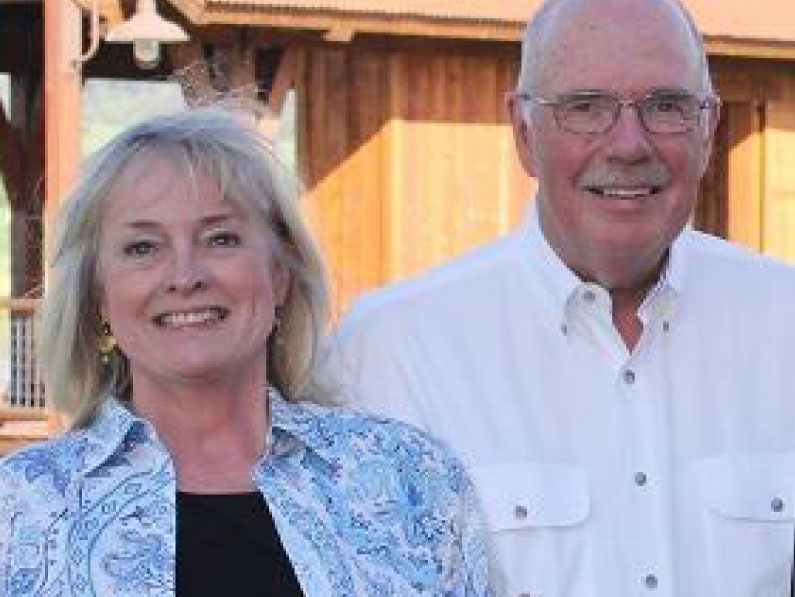 Rod & Vicky Hanna – Individual Philanthropist of the Year
Learn More
"IT'S NOT JUST ABOUT THE MONEY. WE HOPE THROUGH OUR VOLUNTEER EFFORTS WE HAVE HELPED IMPROVE PUBLIC WELFARE AND QUALITY OF LIFE FOR OTHERS."
Rod and Vicky Hanna have a passion for their community – Rod for the arts and business nonprofits, Vicky who believes that children are the best asset for the future and feels that families are the greatest part of the Yampa Valley. In the mid 70's they arrived in Steamboat from different directions, Rod from Kansas City, Vicky from Palm Springs. Marrying in the early 80's, they believed they could make a difference, and set about becoming involved.
Rod has volunteered on a variety of nonprofit Boards and has taken a leadership role as President or Secretary Treasurer in many of them. For 31 years he has been a member of the Steamboat Springs Rotary Club, having achieved some of the highest accolades within the organization, let alone initiating the successful $400,000 Rotary Yampa River Boardwalk Centennial Project. He has served with the Economic Development Council, Local Marketing District, Steamboat Chamber Resort Association, Steamboat Springs Arts Council, Community Agriculture Alliance, and the Steamboat Art Museum, availing those groups of his well-known and highly tuned marketing skills. In addition, for 33 years he has donated hundreds of pieces of his photography artwork and photography books to benefit various organizations and fundraising events.
Vicky has been involved in Boys & Girls Club of NW CO since its inception. Vicky is proud of the impact they have made on both the Steamboat and Craig communities. Juvenile delinquency has been markedly reduced, with 55% of Steamboat's youth now involved with the Club. "We know from the feedback of parents that we are improving their quality of life by decreasing their stress knowing their kids are safe and learning while they are still at work. The children also acquire life skills through groups like Miss Manners and Cowboy Ethics." Vicky also volunteers for Sunshine Kids, and is known for her vocal cheerleading of all community improvement initiatives and telling her real estate clients who ask how they can help, to just simply go out and volunteer.
Rod started and managed the Walker-Lundquist Invitational Golf Tournament which ran for 15 years starting in the 80's and benefitted the Steamboat Arts Council until it was diverted to funding the Doak Walker Memorial Fund held at the Community Foundation. Rod directs the Fund which distributes eight scholarships each year to local youth. Rod and Vicky have made many financial contributions as well, but state "It's not just about the money. We hope through our volunteer efforts we have helped improve public welfare and quality of life for others".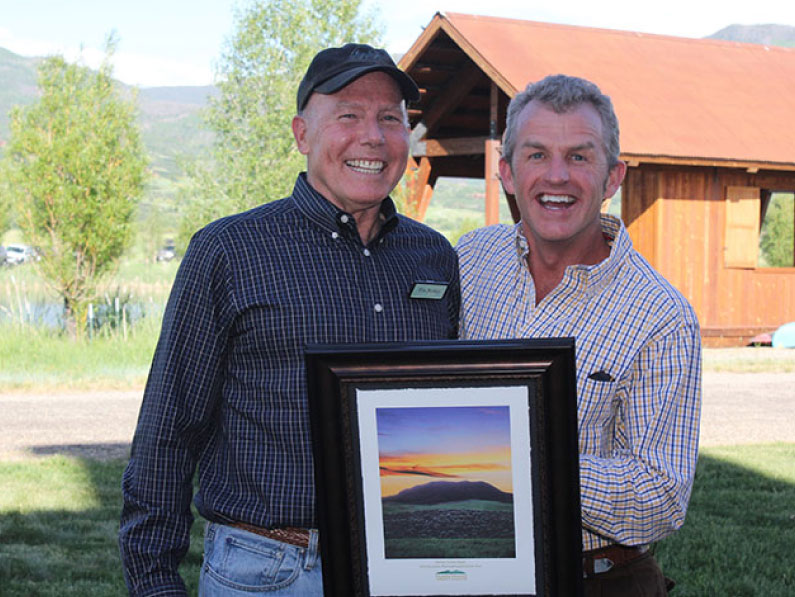 Yampa Valley Bank – Business Philanthropist of the Year
Learn More
"WE FOCUS STRONGLY ON OUR COMMUNITY BECAUSE WE FEEL THE TRUE REWARD COMES TO THOSE WHO ARE DOING THE GIVING."
Yampa Valley Bank is not only committed to its customers and the community, but also focuses on enriching the lives of its employees through encouraging active participation in the community. The officers, directors and staff serve over 25 nonprofits and community groups, in diverse roles from board members to ambassadors, presidents, treasurers, fund raisers, team leaders and volunteers. PJ Wharton, Bank President and CEO, oversees the philanthropic activities of all employees. "If the staff are not directed to participate but rather are allowed to choose something they are passionate about as individuals, their commitment is even stronger, which results in a better outcome for the organizations they choose to serve." The Bank's philanthropic contributions are diverse and focus on fun and inclusion. From a staff team participating in the Penguin Plunge, to the Bank sponsoring the July 4 Parade, Winter Carnival, Moffat and Routt County Fairs, Strings Concert Series and others, they are involved in events that touch the lives of many in Routt and Moffat counties. Yampa Valley Bank hosted its annual "$10K Day" for United Way in 2012 and far surpassed expectations by raising $39,000 in a single day for the health and human services organization. Employees are also allowed paid time off to help with and participate in service groups and events such as Relay for Life, Rotary, Habitat for Humanity, Ride and Ski 4 Yellow, and Bust of Steamboat, as well as serving on local grant and scholarship committees. Tim Borden, Board Chairman states "We appreciate this recognition; however, we will be as passionate about our community and our staff every year as we are this year. We focus strongly on our community because we feel the true reward comes to those who are doing the giving."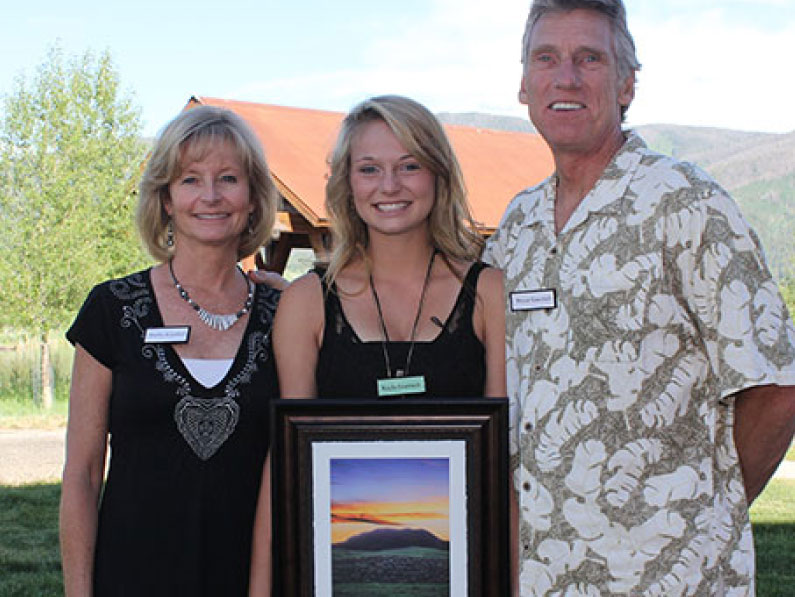 Kayla Guettich – Youth Philanthropist of the Year
Learn More
"DO WHAT YOU CARE ABOUT, GIVE, BE KIND, GIVE YOURSELF CREDIT, AND DO NOT EXPECT ANYTHING IN RETURN. PEOPLE FEEL LIKE THEY CAN'T CHANGE THE WORLD BUT YOU CAN BE AS SIGNIFICANT AS YOU ALLOW YOURSELF TO BE. WE ARE ALL CAPABLE OF CHANGING SOMETHING FOR THE BETTER."
Kayla's focus in her philanthropic endeavors is primarily empowering youth. She is Vice President of the Youth Rotary program 'Interact', Executive Committee member of Grand Futures' Teen Council, public speaker and representative of It Takes Courage, mentor with Partners of Routt County, and creator of G.R.I.P. (Girls Reaching Inner Potential) girl's social group. Kayla's awards in 2013 alone include February Teen Optimist of the Month, United Way Youth Volunteer of the Year as well as Yampa Valley Community Foundation Youth Philanthropist of the Year. In addition to locally, Kayla's work has taken her to Florida to speak in front of a crowd of thousands, as well as to Mexico and later this year to Africa working in schools, hospitals, orphanages, and with youth groups. The girls empowerment group G.R.I.P initiated as a result of a school project. This spring the first major event of the group was held at Perry Mansfield with self-esteem building games and activities. Kayla and a friend organized and found sponsors for the event themselves and over 70 girls attended. Kayla's enthusiasm and energy is infectious. The group now has 148 members and is in planning phase to become the new mentorship program in local schools. Advice for living a fulfilled life from this wise-beyond-her-years teen is to "Do what you care about, give, be kind, give yourself credit, and do not expect anything in return. People feel like they can't change the world but you can be as significant as you allow yourself to be. We are all capable of changing something for the better."
Philanthropist of the Year Award Recipients
Verne & Nancy Lundquist
Individual Philanthropist of the Year
Native Excavating
Business Philanthropist of the Year
Jake Barker
Youth Philanthropist of the Year
Steve & Pam Williams
Individual Philanthropist of the Year
Central Park Liquor
Business Philanthropist of the Year
Anna Poirot
Youth Philanthropist of the Year
Sara & Michael Craig-Sheckman
Individual Philanthropist of the Year
Steamboat Restaurant Group
Business Philanthropist of the Year
Austin Ritzel
Youth Philanthropist of the Year
Tim & Janet Borden
Individual Philanthropist of the Year
Holiday Inn
Business Philanthropist of the Year
Kayleigh Esswein
Youth Philanthropist of the Year
Mary Brown
Individual Philanthropist of the Year
Smartwool
Business Philanthropist of the Year
Megan Hanrahan
Youth Philanthropist of the Year
Rick & Donna Garth
Individual Philanthropist of the Year
Prudential Steamboat Realty
Business Philanthropist of the Year
Nick Labor
Youth Philanthropist of the Year
Patti & Pres Askew
Individual Philanthropist of the Year
Steamboat Resorts
Business Philanthropist of the Year
Katie Matteo
Youth Philanthropist of the Year
Patty & John Kerst
Individual Philanthropist of the Year
B&K Distributing
Business Philanthropist of the Year
Chantel Gregory
Youth Philanthropist of the Year
Susan & Jim Larson
Individual Philanthropist of the Year
Alpine Bank
Business Philanthropist of the Year
Tucker Louthan
Youth Philanthropist of the Year
Poogie & Steve Dawes
Individual Philanthropist of the Year
Sheraton Steamboat Resort
Business Philanthropist of the Year
Lyman Orton
Individual Philanthropist of the Year
Steamboat Motors
Business Philanthropist of the Year
Jeff Fowler
Youth Philanthropist of the Year
Joy & Denny Swanson
Individual Philanthropist of the Year
Steamboat Pilot & Today
Business Philanthropist of the Year
Maggie McElhinney
Youth Philanthropist of the Year
Eileen & Don Lufkin
Individual Philanthropist of the Year
Wells Fargo Bank
Business Philanthropist of the Year
Emerald City Youth
Youth Philanthropist of the Year
Audrey & Bob Enever
Individual Philanthropist of the Year
TIC - The Industrial Company
Business Philanthropist of the Year
Gloria Gossard
Individual Philanthropist of the Year
Steamboat Ski & Resort Corp.
Business Philanthropist of the Year
Nathan Proper
Youth Philanthropist of the Year
Every day we meet with partners, new and longstanding, to pass on our passion to build a better Yampa Valley. If you have a passion, we can help you find the best way to pass it on.