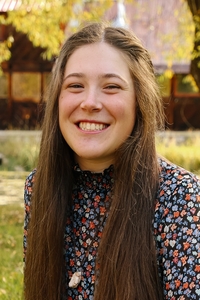 Caroline Landers is an incredible and inspiring person who truly embodies the spirit of youth philanthropy. Caroline gives back because as she says, "The Yampa Valley is an amazing place that has given me so much, and I want to make it a better place for everyone else. "
We are proud to honor Caroline as this year's Youth Philanthropist of the Year.
Her involvement with organizations like Girl Scouts and the Boys and Girls Club reflects her passion for supporting and contributing to the well-being of the younger generations in the community. Her work and volunteering with Strings Music Festival, Steamboat Soccer Club, and Steamboat Springs Winter Sports Club, show her willingness to engage in different activities to make a positive impact.
Caroline is most proud of earning her Girl Scout Gold Award, for creating a lasting curriculum on kindness through her story, "Bibrib the Frog Spreads Kindness." When she saw that kids were quick to anger and become frustrated with their peers, she created a fun friend, Bibrib the Frog. Her use of creativity and storytelling to teach young children about kindness is a powerful way to instill positive values in our youth.
Her leadership qualities, fearlessness in the face of challenges, and willingness to help in any way she can highlight her exceptional character. Whether by serving as student chair for the Santa Breakfast Band Fundraiser, organizing the Father/Daughter Dance, cutting out paper hearts for a Boys & Girls Club fundraiser, or baking 400 cookies per week for the Snowbowl Family Dinners during COVID, Caroline's actions demonstrate her compassion and spirit of giving to others.
Caroline's commitment to continuing her philanthropic efforts wherever she goes shows that giving back is a core part of her life's purpose. Her enthusiasm and dedication to making a difference make her a shining example for others, and her future is undoubtedly bright.
Caroline Landers serves as an inspiration to others in the Yampa Valley community and beyond. Her selflessness and dedication to making the world a better place will undoubtedly have a lasting impact on the lives of many, and she is indeed deserving to be recognized as the "Youth Philanthropist of the Year."