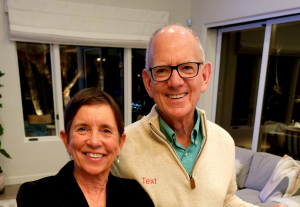 This will be Paul Ferguson's 52nd winter in Steamboat Springs. According to Paul and Bridget: "Things were so different back then. There was one blinking light at the Space Station, and most of the roads were still dirt. But, there is one thing that has never changed. The same kind of wonderful people move here and stay here. We moved here for the people, and we have stayed for the people."
Paul and Bridget Ferguson are exactly that – wonderful people. "They exemplify the true meaning of philanthropy from the heart," states one of their many nominations for Philanthropist of the Year. "They give, not only from their checkbook, but from their being. They roll up their sleeves and get their hands dirty. Paul and Bridget are quick to answer when called but also create their own means to an end without fanfare. They see a need and are ready to help find a solution … and always with a smile and a graciousness. "
When volunteering with LiftUp several years ago, Bridget noticed that the food bank shelves were stocked only with canned goods and shelf-stable items. Bridget was motivated by the need she saw in the community. "It's amazing how many people in our community struggle with food insecurity," Bridget says. "There's a tremendous need that goes undetected under the surface." Where Bridget and Paul see a need, they feel compelled to get involved.  In this case, Bridget came up with the idea for the Pro Do Program.
The food drive has seen a massive amount of fresh produce collected at the City Market checkout area – approximately 1,400 pounds each month! Bridget and Paul staff the doors each month with volunteers they recruit, transport all of the produce, weigh it and store it on behalf of the food bank. The success of the Pro Do Program is a direct result of the generosity of the community.
While the Ferguson's support many organizations and efforts, they are particularly passionate about United Way, Boys & Girls Club and Integrated Community. Not only are they generous in their financial giving, but they are continually searching for creative ways to give back– from passing along computer equipment to searching through their garage and storage for bikes and parts to help Routt County Riders' Bike Match program, or providing construction advice and direction on capital campaigns.
They are also proud to volunteer at Soda Creek Elementary with a homework club for students after school. They enjoy spending their time with kids who need a little extra help, passing along support and a smile while helping them with their assignments.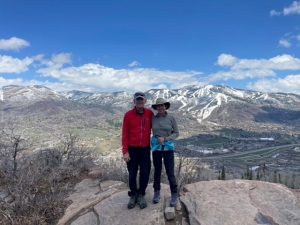 When asked "What's the most charitable thing you can do?" Paul's answer is simple: "Offer someone opportunity, and everything else falls into place. Wherever we see need, we want to help. A lot of times it's just about becoming aware of someone who needs help and stepping up to provide assistance. There is nothing more fulfilling than being a small part in someone's journey to better themselves."
Humbled by the honor of being recognized as the 2022 Philanthropists of the Year, Paul and Bridget share: "We are not an exception here. We are just always looking for little ways that we can make a difference."