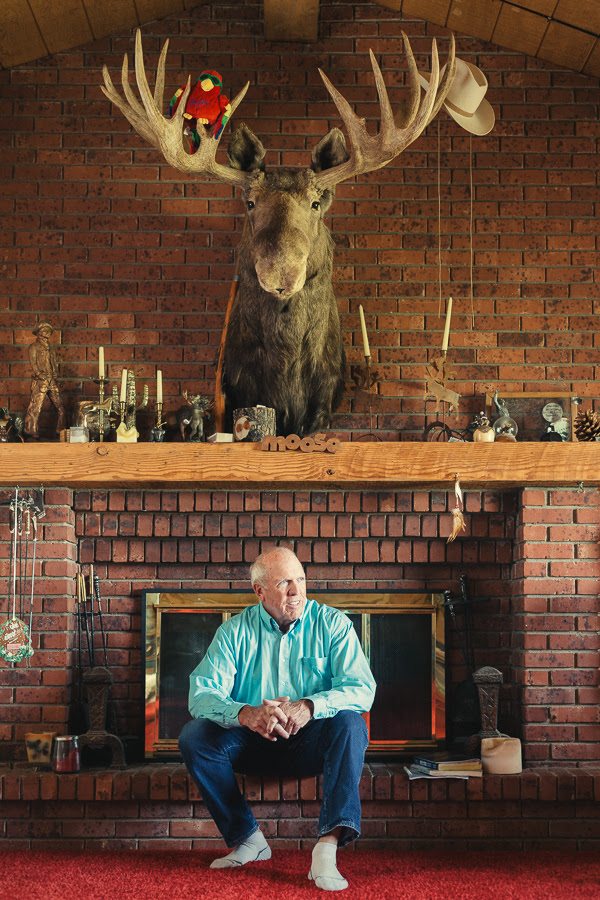 Jim "Moose" Barrows and the term "legacy" are almost synonymous. Most people know about Moose's legacy in the ski racing world. He helped mold the sport, with some of the most famous names in skiing as his teammates and friends – Spider Sabich, Billy Kidd, Jimmie Huega just to name a few. ABC's feature of his famous crash at the 1968 Winter Olympics in Grenoble, France forever labeled him with the "agony of defeat" tagline. The new Barrows chairlift at Howelsen Hill is a lasting tribute to Moose's seemingly limitless passion for and contributions to his sport. Get Moose talking about his passion for inspiring young skiers, and he can't help but flash his huge, infectious smile. US Ski Team member, World Pro Skier Tour member, US Ski Team Men's Downhill coach, Olympian, Colorado Ski Hall of Fame – no doubt he has left his legacy in ski racing.
Equally as legacy-worthy are Moose's stories about the early days of Steamboat. His family moved to Steamboat in 1950 and there is no end to the stories that he can share. He remembers a time in Steamboat when lift tickets were $4.50 and gas stations in town were lucky to sell 100 gallons of gas a day. Walking through his home is like taking a tour through a Steamboat history museum and ski hall of fame museum at the same time.
The story that hasn't been told about Moose, though, is the one that brings a tear to his eye. And the one for which he is being honored with the Legacy of Philanthropy Award. The common thread running through Moose's career in skiing and his life in Steamboat is his love for people, particularly children. Through the years, he has leveraged his success, his fame, his connections and friendships, to bring positivity and hope to those who need it. A true philanthropist at heart, nothing brings a bigger smile to his face than knowing that he has brought joy to someone else's life. He has done that in countless ways for literally thousands of families. The Moose's Loose Golf Tournament and Mickey's Fund are two of the philanthropic contributions that Moose is most proud of, and two of his greatest legacies.
Back in the 1970's Moose, along with Paul Thayer and Hank Kashiwa, came up with the idea for a charitable golf tournament that would be supported nationally and attract famous names from around the country. Moose wanted to create a youth scholarship program at the Steamboat Springs Winter Sports Club, which would provide funding for young skiers to participate in programming that they would otherwise not be able to afford. Originally known as the Thayer-Kashiwa Classic, then renamed the Moose's Loose Golf Tournament, proceeds from the tournament created SSWSC's scholarship program. Moose has run the tournament since it was created in 1974 (with the exception of a few years in the early 1980s), and it continues to this day. Even in the years when he was coaching the US Ski Team, he would come back to town and run the tournament.
Moose was motivated to create scholarships for young skiers so that local kids could get the kind of help that he got as a promising young ski racer. He observed the ski industry shifting from the small-town "everyone just takes care of each other" atmosphere to a more corporate, business-focused industry. He wanted to make sure that Steamboat's young local skiers didn't get left out, and that they would have the opportunity to experience this sport that he loved so much. Over the past 40 years, the Moose's Loose Golf Tournament has provided hundreds of thousands of dollars for countless local youth to participate in snow sports through SSWSC.
Mickey's Fund is a cause that is extremely close to Moose's heart. In 1983 just before Christmas, Moose was driving his 2.5 year old son, Mickey, back to Steamboat from Children's Hospital Colorado, where Mickey was being treated for a heart condition.
Mickey was worried about the kids, who had become his friends, and who were going to be spending the holidays in the hospital. He asked his dad, "How will Santa know they are there?" Sadly, young Mickey didn't live much longer. Moose was inspired by his son to create Mickey's Fund, and fulfill his promise to his son that Santa would find the kids, even if they are at the hospital. Through donations received from friends and supporters, Moose established an endowment fund which was used to buy toys and gifts for the children who would be spending Christmas at Children's Hospital. By 1987, Moose and other Steamboat residents started the annual tradition of collecting toys and donations, and driving them to Denver, where they would personally deliver the gifts. This tradition continues to this day.
Mickey's Fund was eventually moved to the Children's Hospital Foundation, and the Snow Pile Program was formed, to carry on what Moose had created. The small gesture of kindness that Mickey wanted to share with his friends at the hospital has grown into a 2-day gift extravaganza for in- and out-patient families at Children's Hospital. Not only do parents get to pick out age-appropriate gifts for their sick and injured children, but they also get to pick out gifts for the other kids in their family, so they can all experience some joy around the holidays. The program serves over 1,000 children of all ages each holiday season.
Moose has only missed a few days out of the last 30 years of the toy drive, spearheading the local efforts each year to collect and deliver gifts to Denver for the big event. "Moose is a very important part of our culture and a good friend," shares Anne Hanson, philanthropy director at Children's Hospital Colorado Foundation.
Anne's words can be extended to so many different aspects of Moose's life – he is a very important part of our culture and a good friend. Our world would not be as bright a place without Moose Barrows. His contributions have touched so many lives for the better. That's why we are proud to present to James "Moose" Barrows the Legacy Philanthropy Award.