written by Michael Osterman
This is the first in a series of stories acknowledging local heroes who are volunteering their time, wisdom and talents to improve our local habitat and benefit the entire Yampa Valley community.
Today's story has three key parts to it; WHLD (Wildlife Habitat Improvement – Local District), a very problematic invasive plant called Leafy Spurge, and a dedicated volunteer named Ben Beall, aka the Weed Warrior.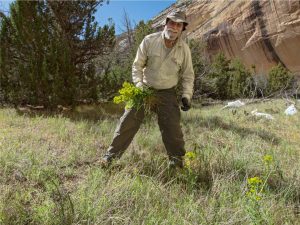 The WHILD endowment fund supports local wildlife habitat improvement projects, including capital projects, planning, research, studies, management, enforcement, education and other wildlife habitat improvement projects for public benefit within Routt County. WHILD is sponsoring a series of stories highlighting how we can all make a difference in improving wildlife habitat.
The second key player in this story is leafy spurge, a Eurasian plant accidentally introduced to North America in the early 19th century. Due to the fact that it has no "local predator" to keep it in check, leafy spurge has aggressively invaded riparian habitats and now infected millions of acres through 29 states. Specifically, the Yampa River and its tributaries are spreading the leafy spurge seeds downstream and have caused massive infestations in Routt County from Steamboat to Craig and beyond. This incredibly hardy perennial with it's 30 foot deep and wide spreading root system, is supplanting the natural grasses, plants, bushes, and trees along our waterways and significantly threatening our environment. Once it becomes established in rangeland, pastures, and riparian sites, it crowds out other native vegetation. Large swaths of land that historically supported cottonwood trees, willows, and natural grasses have been threatened and taken over by this unyielding species.
Leafy spurge replaces more valuable livestock and wildlife forage and the milky sap is poisonous to some animals. As a result of crowding out natural plant life, it is responsible for significant reduction in the economic value of the land.
This is where Ben Beall, the Weed Warrior, steps in. Ben has been instrumental in forming the Yampa River Leafy Spurge Project, which has taken on the challenge of combating this threat to our wildlife habitat. But first, it is worth spending a moment to get to know more about Ben and his legacy in Steamboat. After a stint as a Navy Seal, Ben moved to Steamboat in 1973, where he met his soon to be wife, Millie, in the Cameo Bar. His carpentry skills led to the inception of Beall Construction and Custom Woodworking. In 1992 Ben was elected as a Routt County Commissioner and retired in 2001 following two terms. His impact in Steamboat over the past 47 years has been dramatic. Today there is a mountain biking trail on the back side of Emerald Mountain called Beall Trail, named after Ben to commemorate his numerous contributions and his impact on our community. If that weren't enough, in 2007 Ben and Millie volunteered for the Peace Corps.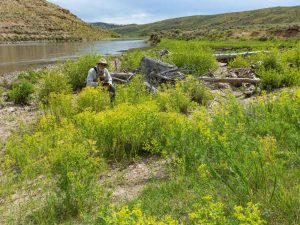 A self-described River Rat, Ben and a team of fellow volunteers regularly kayak the Yampa River in search of leafy spurge. Early on, the goal was to eradicate the leafy spurge; the goal now is to find ways to simply manage it since it has proven impossible to remove without the use of chemicals that are toxic and often counterproductive. Ben and his team of Weed Warriors have discovered that biocontrol may be a far better approach and it is yielding positive results. This is accomplished through the use of a specific type of flea beetle which, upon release, helps to keep the spread of leafy spurge in check. These beetles co-evolved with leafy spurge in its original old-world habitat and are most effective in controlling the spread of leafy spurge by significantly reducing their seed production. Incredibly, a single leafy spurge plant is capable of producing up to 130,000 seeds annually! It should be noted that the flea beetles are exclusively interested in the leafy spurge and are approved for the use in the USA and supplied by the Colorado Agricultural Department Insectary in Palisade, CO.
The Weed Warriors' numerous forays down the Yampa have served to map out the exact locations so that they know where to release the beetles. The Yampa River Leafy Spurge Project is a testament to the dedication and resolve of a group of volunteers who contribute their time and energy to improving wildlife habitat and our way of life. WHILD salutes Ben Beall and this group for their ongoing commitment to Routt County and beyond.
To donate or learn more about WHILD go here
Please also let us know if you are aware of other local wildlife habitat improvement heroes!!