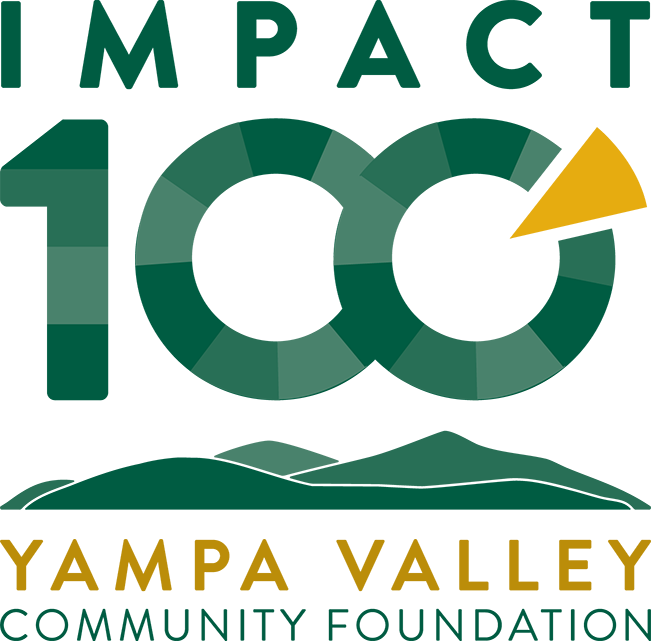 What is IMPACT 100?
The concept of IMPACT100 is simple: 100 people donate and become members of the "giving circle," creating a pool of funding that is granted out to support our communities. This collective giving program is designed to inspire a new generation of local philanthropists and provide a platform to become educated about nonprofit organizations addressing needs in the Yampa Valley.
During the three social and educational events of the season, enjoy complimentary dinner and drinks while you hear from nonprofits and meet others interested in charitable giving. Join at any time; you do not need to wait for the next season to start. A schedule of the season:
Nominating Event – Learn about IMPACT100, meet your fellow circle of givers, meet nonprofits from around the valley and nominate an organization of your choice to be considered for IMPACT100 funding
Presentation Event– "Speed dating" event, where you will hear from a variety of nonprofits, learn about their mission and programs, and how IMPACT100 funding could help them in their work. Vote on which nonprofit you would like to hear from as a finalist at the voting event.
Voting Event – The three organizations who are selected at the 2nd event as finalists will present how their organizations would benefit from funding. Paid members vote to determine how your IMPACT100 funds will be allocated among the finalists
100% of each member's tax-deductible donation goes directly to support the local community thanks to our event sponsors, who cover all expenses for food, drinks and venues. We encourage you to bring a friend and introduce them to the power of charitable giving.
For more information about IMPACT100, to join the steering committee or to learn about the benefits of sponsorship, please contact traci@yvcf.org.
IMPACT100, a collective giving program of the Yampa Valley Community Foundation, closed out its 16th season in May, 2022, awarding $16,250 to three deserving local nonprofit organizations. The final voting event for Season 16 was hosted at Perry Mansfield Performing...
At IMPACT 100's closing event of Season 15 in April 2021, members voted to award $11,500 to four deserving nonprofit organizations. Since its inception in 2006, YVCF's IMPACT100 program has granted $178,550 to 50 local nonprofits. The concept of IMPACT100 is simple:...
Since 2006, IMPACT100 has granted over $194,800 to 53 local nonprofit organizations.
Advocates of Routt County
Booktrails
Born Free Wildlife Rehabilitation
Boys and Girls Club of Northwest Colorado
Northwest Rocky Mountain CASA
Center for Visual Arts
Chief Theater
Colorado Crane Conservation Coalition
Colorado Student Care
Come As You Are
Community Agriculture Alliance
Community Cultivation
Everything Outdoors Steamboat (EOS)
First Impressions of Routt County
Friends of the Yampa
Girls on the Run
Grand Futures
Integrated Community
LiftUp of Routt County
New Frontiers: Girls to Women
Northwest Colorado Dental Coalition
Northwest Rocky Mountain CASA
Northwest Colorado Center for Independence
Northwest Colorado Health
Old Town Hot Springs
Open Heart Advocates
Opera Steamboat
Partners of Routt County
Perry-Mansfield Performing Arts School and Camp
Planned Parenthood of the Rocky Mountains
Reaching Everyone, Preventing Suicide (REPS)
Rocky Mountain Youth Corps
Routt County 4-H
Routt County Council on Aging
Routt County Crisis Support
Routt County Humane Society
Routt County Search and Rescue
Routt County Riders
Routt to Work
Sk8 Church
STARS
Steamboat Springs Mental Health
Steamboat Symphony Orchestra
Trail Maintenance Endowment Fund
Yampa Valley Autism
Yampa Valley Land Trust
Yampa Valley Sustainability Council
Yampatika
Young Bloods Collective
Young Tracks Preschool and Child Care Center
Every day we meet with partners, new and longstanding, to pass on our passion to build a better Yampa Valley. If you have a passion, we can help you find the best way to pass it on.