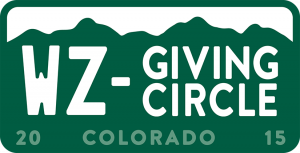 The WZ Giving Circle supports individuals and families in Routt and Moffat Counties who are experiencing crisis and are in need of funding. The group accepts proposals for funding from nonprofits on behalf of clients who remain anonymous. Those proposals are then presented by the nonprofit representatives to the WZ Giving Circle at meetings held three times per year. This funding is intended to fill gaps for needs that our community members have, and for which there are no other funding sources available.
The WZ Giving Circle met in March 2022, to consider 8 funding proposals from 5 nonprofit organizations. In total, $21,285 was approved to be granted to the nonprofits in order to provide financial assistance for their clients. Proposals included funding for dental extractions, respite care, a bathroom remodel for an elderly gentleman, and therapy for a youth who is struggling.
The next grant cycle for WZ Giving Circle will be in June 2022. For more information or with questions, please contact traci@yvcf.org.