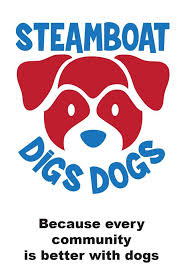 Steamboat Digs Dogs Capital Fund
In Steamboat Springs, dogs are a beloved member of the family.  Ensuring dogs are part of our mountain town culture, the Steamboat Digs Dogs Endowment Fund will maintain, operate, and improve off-leash dog parks in our community, fur-ever.
Our Mission
To improve the usability of Steamboat's off-leash dog parks: Rita Valentine and Spring Creek.
Currently, our focus is on Rita Valentine.
Improvements To Be Made
Increase parking
Provide a water fountain for dogs & their humans
Trees for shade
A pavilion for shade
Benches
A fenced area for small dogs
A fenced area for dogs that need outdoor time and may be recovering from an injury
Composting station for dog waste
Signage
Opening more trails for multi-use purpose.
Making sure that waste is picked up and disposed of properly.
More waste containers for this purpose.
We plan to raise human awareness of the importance of picking up after your dog and disposing of their waste in proper containers. Composting dog waste keeps our water resources clean, our trails clean, and best of all this compost, when placed on flowerbeds, brings beauty to Steamboat.
Once we begin to make improvements, funds will be used to maintain the park.
To donate to Steamboat Digs Dogs Capital Fund by check:
Yampa Valley Community Foundation
PO Box 881869
Steamboat Springs, CO 80487
* Please make the check out to YVCF and note in the memo line that the check is for the Steamboat Digs Dogs Capital Fund