DID YOU KNOW?
Routt County saw the largest gain in its senior population in the nation (80 percent) over the past decade (2008-2018).
One in five people in Routt County is over the age of 60.
There are 5,085 seniors in Routt County. 1,039 of these live at 185% of poverty level.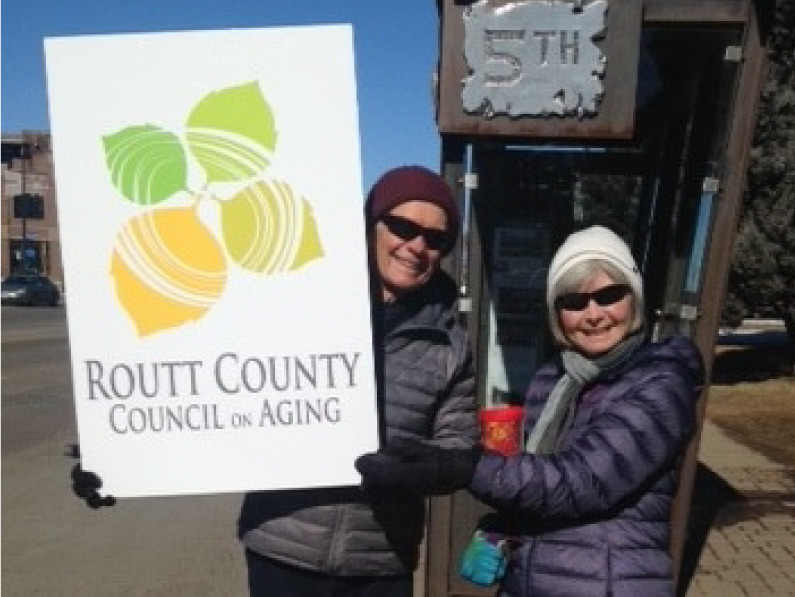 Routt County Council on Aging
Routt County Council on Aging helps provide older adults with purpose, passion, laughter, support, resources and encouragement. We facilitate happiness and meaning, and our work wouldn't be possible without support from generous donors. Please consider supporting Routt County's seniors by giving to the Routt County Council on Aging Endowment Fund.
Doing Our Part
Routt County Council on Aging is an independent 501(c)(3) nonprofit organization whose mission is to determine the needs of the senior citizens in Routt County and to make every effort to meet those needs with appropriate action.
Routt County Council on Aging reduces senior isolation through connection
Routt County Council on Aging is the ONLY nonprofit in the county that exclusively serves the needs of older adults age 60 and better. We offer various programs to help us meet our mission:
Group Meals in three locations in the county
Meals on Wheels home-delivered meals
Transportation to lunch, medical appointments and other errands
Field Trips
Lunch Speaker Series
Bingo and Bridge
Exercise Classes
Social and Recreational Activities
To donate to Routt County Council on Aging by check:
Yampa Valley Community Foundation
PO Box 881869
Steamboat Springs, CO 80487
* Please make the check out to YVCF and note in the memo line that the check is for the Routt County Council on Aging