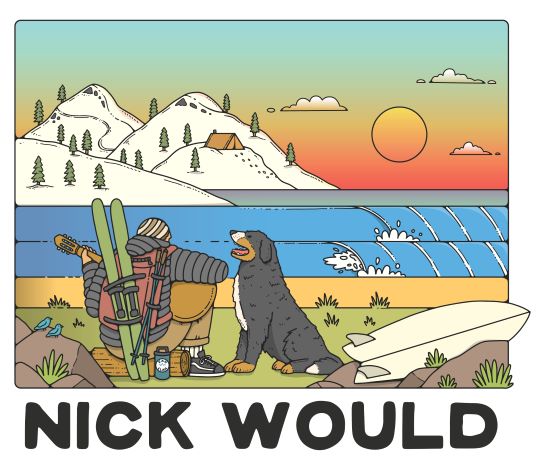 The "Nick Would" Foundation
The "Nick Would" Foundation was established to share opportunities to experience the thrill of outdoor sport, wild land exploration, and artistic development, by removing barriers and making these activities accessible to all.
To donate by check:
Please make the check out to YVCF and note in the memo line that the check is for the "Nick Would" Foundation.
Mail to:
Yampa Valley Community Foundation
PO Box 881869
Steamboat Springs, CO 80487
*Yampa Valley Community Foundation is a 501c3 organization. EIN #84-0794536.
Please call Traci Hiatt at 970-879-8632 with questions regarding donations.
The "Nick Would" foundation is a Donor Advised Fund of the Yampa Valley Community Foundation. This means the fund advisors make recommendations to Yampa Valley Community Foundation for where the funds will be distributed. Grants from the fund will be made to qualified charitable organizations and targeted around expanding access to outdoor pursuits, wildland exploration, and artistic development to those who otherwise could not experience these activities for physical, cognitive, or economic reasons.
Nick Simon, who passed away Oct. 27 at age 25 in a tragic car accident, was passionate about each of these activities, and it's the fund's intention to help spread these experiences to honor Nick's legacy. Nick loved to share his excitement ("share the stoke") with anyone who joined in these pursuits, and with this foundation his "stoke" will be spread for future generations.
Nick lived his 25 years as fully as anyone we've ever known. He worked hard and played hard and squeezed the nectar out of every single day. Nick changed the world by inspiring all who had the privilege of sharing in his energetic orbit. If you knew Nick, you knew a special, golden spirit who was as enlightened as they come. He had a knowing in life that we all wish we had. He was an old soul and his love, warmth, humor, and zest for squeezing every bit of joy out of life was infectious and intoxicating to be around. He just made you feel good, made everything okay.
Born and raised in Steamboat Springs, Colorado, Nick embodied everything that makes his hometown such a special place for raising a family. Starting as a hockey player and Alpine racer with the Steamboat Springs Winter Sports Club, Nick progressed to freestyle skiing, then found his rightful place on the Big Mountain ski team, ultimately co-founding the Steamboat Van Clan, a team that successfully competed in the Open Class Big Mountain Tour in Canada and the USA.
Nick never missed an opportunity to be out in nature enjoying everything it had to offer. If he wasn't skiing or surfing, he was mountain biking, rock climbing, kayaking, or trekking in the mountains. From his NOLS trip in the Himalayas to his post-college solo bike-packing trip on the Colorado and Continental Divide Trails, he did it all. Nick was also a highly gifted musician and songwriter, having written over 50 songs, and shared his talent for fortunate guests in every town he'd visit. He travelled to over 30 countries charging into his passions while inspiring countless people along the way. But the thing he did best was love. No one loved better than Nicholas. 
The concept of Nick Would is much more than approaching life boldly. It means Nick gave us all lessons in life that we should take away with us from here forward. Nick wasn't just a great athlete with a huge adrenaline appetite, he was also a talented musician with an incredibly sensitive and caring heart.  Since Nick was a young child, he was always the first to offer a helping hand, supportive conversation, or simply letting someone know they mattered. Nick's spirit lives on for the legion of people he inspired, supported, and loved in his short 25 years.
The "Nick Would" Foundation is a vehicle to share in Nick's legacy for generations to come.