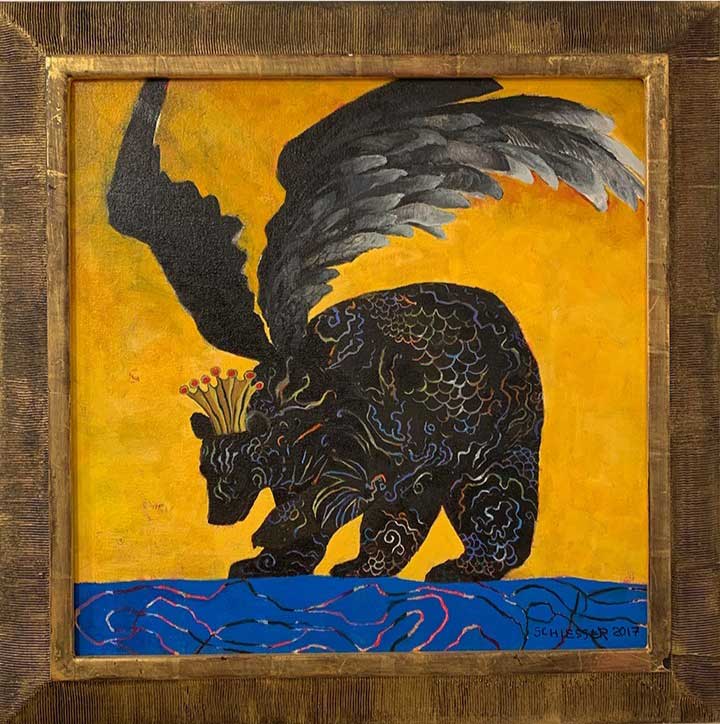 The Susan Schiesser Memorial Fund is a Designated Fund of the Yampa Valley Community Foundation, created for the charitable purposes of funding the creation of a sculpture in honor of Susan Schiesser and the maintenance of the sculpture by the City of Steamboat Springs, as well as to support Steamboat Reading, Routt County Humane Society and Steamboat Creates. For more information about the specific charitable purposes of this fund, please contact YVCF.
Susan will always be the sparkle that dances on the ocean under the full moon.

Susan Schiesser Memorial Fund
TO FUND A SCULPTURE OF SUSAN'S WORK TITLED, "SHE WALKS ON WATER" THAT WILL LIVE PERMANENTLY IN THE YAMPA VALLEY, AND TO BENEFIT CAUSES THAT WERE CLOSE TO SUSAN'S HEART
Steamboat Springs' art community has been shaken by the loss of one of the most talented, driven, unpredictable, deliciously amusing artists to call Steamboat home. Susan Schiesser was one of Steamboat's most colorful and vibrant artists, mentor and inspiration to uncountable artists, and loving friend. She died October 30, 2020 surrounded by her family and friends in her home away from home, Kauai, Hawaii.
Susan helped transform the art scene in Routt County with her own brand of contemporary art that was authentic to the places and subjects she loved. She perfected the drip, swirl and sparkle techniques in her work that grace the walls of collectors worldwide. Susan won the Mango Princess Award for 'Best of Show' from the Kauai Society of Artists, was chosen as Steamboat's 'Best in the 'Boat' Artist' and had work represented in galleries from Colorado to Hawaii, Nevada, California and Key Largo. Overseas, her work was exhibited in Switzerland and Germany.
According to Susan, her work consisted of "Negotiating a space of ideas based in personally significant experiences, I pursue a transient perception of beauty and imagination. Psychological uncertainty and momentous confidence merge to process my internal dialog about sense of place into a painterly language."
She was a leader of change and fierce advocate of the arts in rural Colorado and beyond. Her relationship with the art community in Steamboat Springs began in 1999 with the Steamboat Springs Arts Council's  Small Works Gallery, followed by Artlink and Art Thursdays which involved a touring city bus, video and TV content, art-of-beer brewery tour. She ran three galleries and, alongside Pat Walsh and Jim Cook, has continually worked to provide a platform for established and emerging artists. She collaborated with anyone she found talented and passionate, no matter their age or experience.
Outside of her art, Susan loved yoga, dance, family, gourmet cooking, organic gardening, shooting skeet, skiing, travel and mindfulness. Perhaps the greatest loves of her life were her dogs, who were spoiled beyond belief and had healthier diets than most people.
Susan was a beloved friend and inspiration to all who knew her. She was, in a word, fearless. Donations can be made in her memory to the Yampa Valley Community Foundation's Susan Schiesser Memorial Fund. Donations along with all monies from future sales of her work will be put towards a sculpture of her work, titled, 'She Walks on Water' that will live permanently in the Yampa Valley. Please contact dagny@steamboatcreates.org for an advanced viewing list of Susan's available work.
To donate The Susan Schiesser Memorial Fund by check:
Yampa Valley Community Foundation
PO Box 881869
Steamboat Springs, CO 80487
* Please make the check out to YVCF and note in the memo line that the check is for The Susan Schiesser Memorial Fund